/ Empowering Employees with Facts: The Importance of Data Literacy in a Pandemic World
Article
Empowering Employees with Facts: The Importance of Data Literacy in a Pandemic World
Contagion rate. Hospitalization rate. Case fatality rate. Within the past few months, the world has seen an explosion of data figures, visualizations and analysis as experts and everyday people alike try their best to understand this novel virus, seemingly unparalleled in its uniqueness of effects. While perusing social media, it seems that everyone has insights to share, but what's important to take into account is that not everyone gets data right. At a time when Americans are looking for clarity around the pandemic to answer questions such as "When will I go back to the office?" and "What will the return to the office look like?," facts grounded in continuously updated, real-time data will prove the ultimate source for decisions not only to stop the spread of the virus, but also to help businesses resume optimal operations.
"The amount of data on the pandemic that is suddenly available is breathtaking. It's not just medical data, but economic data, societal data, community and world response data, educational and cultural impact data, remote and migrated workforce data, and on and on," says Iveta Lohovska, principal data scientist at Hewlett Packard Enterprise.
In one of his daily briefings, Governor Andrew Cuomo of New York said, "Grim facts. Troubling facts. I don't give grim facts. I don't give happy facts. You know, facts are facts and when we started this, I said the best thing I can do is to give people the truth and give people the facts separate from an opinion." Cuomo's daily briefings, always accompanied by slides with simple data visualizations, have become a source of comfort to many Americans. So, what can business leaders learn from these now famous PowerPoints that have proved highly effective in communicating the good, the bad and the ugly, and how can we translate these learnings to inform effective and safe office reopening plans?
According to Inc., there are three key lessons to take away when it comes to communicating with data in a clear, simple and instructive manner:
Visualize numbers
Tell stories through visualizations
Reinforce key messages
At Domo, all of our data-driven solutions are grounded in these key principles — designed for business leaders to have all pertinent data at their fingertips and to be able to communicate the facts to employees at every level of the organization, not just data scientists adept at reading advanced visualizations. Specifically when building our Get Back to Work Command Center, our one-stop shop for everything from temperature scanning to contact tracing to safety and compliance, we leverage data to help business leaders make informed decisions on emerging issues, while ensuring the safety of employees when they first return to work and beyond.
After all, data has been the key factor behind the decisions that forward-thinking governments, healthcare organizations, and businesses have made in response to the pandemic. Agencies such as the Centers for Disease Control and Prevention (CDC), the federal government, and state and local governments are striving to share clean and normalized data, and the need for data literacy across the broader population has become abundantly clear.
At a time when people, many of which had never or rarely turned to data to get their news, have now become accustomed to being continuously provided with it, the need to base key decisions impacting the workforce such as when and how to reopen the office in real-time data has become abundantly clear. So has the expectation from the workforce to be provided with transparent data from the higher-ups which after all, directly impacts and informs their health and safety. From our COVID-19 Tracker, gathering data from leading sources into a consolidated interactive dashboard to our Productivity Indicators App, helping optimize productivity through a series of data indicators, we believe the usage of data is critical to ensuring employee safety and business continuity.
One consideration to make in deploying a data-driven return to office strategy is that a lack of data literacy remains a significant obstacle to making informed decisions. This is a critical time to close the data literacy skills gap between the executive level and the majority of employees by creating a culture of data literacy — one in which data is clear, demystified and accessible. Providing employees with easy to use apps, available on their mobile phone keeps employees informed and ensures everyone is staying connected.
With the rise in online training courses and more people working at home or remotely, companies should encourage their employees to take advantage of opportunities to increase data literacy efforts. One place to start this journey is Domo University. Ultimately, access to data for all levels of the organization means being better prepared for future issues that may arise, including future pandemics.
Resources:
How CEOs Can Lead a Data-driven Culture
Retailers Face a Data Deficit in the Wake of the Pandemic
The State of Data Quality in 2020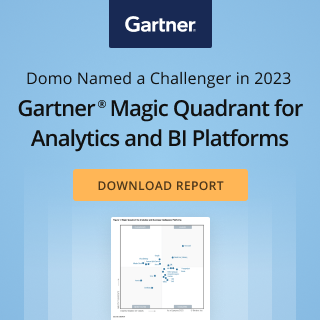 Check out some related resources:
'Future of Work' E-book: How to Safely Reopen the Workplace
Temperature Scanning: The First Line of Defense for a Healthy Workforce
How COVID Changes Elements that Shape the Way We Work
Try Domo for yourself. Completely free.
Domo transforms the way these companies manage business.