/ Digitizing cleanliness
Article
Digitizing cleanliness
How often have you thought about who last touched your work desk or computer keyboard? Before COVID-19, probably rarely, if not never. But as businesses make plans to get back to work in a more traditional fashion, anything having to do with workplace cleanliness is a big part of the equation. In fact, it's even become a topic of discussion at the board level.
Indeed, what was once considered an afterthought—or, at most, a basic operational task—for businesses is now an issue at the top tier of priorities. It's viewed as a strategic differentiator as well as a top-of-mind, corporate responsibility measure. In this article, we look beyond the standard changes that will be required to get back to work toward some fundamental ways businesses may need to adapt in regards to cleanliness.
Understand the essentials, then quickly go beyond
There is a lot of information published by federal and state governments about the essential new practices that businesses will need to follow. Activities such as regular deep cleaning, improved ventilation, social distancing, and education around personal hygiene (e.g. washing hands) will become part and parcel of daily life.
Beyond this, customers and employees are going to be looking at everything they do and interact with in a new light. Certain business practices that were once normal—such as shared computers within a communal space—may be incompatible with new expectations around physical contact and personal spaces.
There are two areas to look at, depending on your business model: workplace implications for employees; and challenges for customer-facing businesses (both front-of-house environments like retail, and back-office functions like supply chain and logistics).
Make long-term changes to the workplace
Where people used to expect cleanliness as a matter of fact they will now be actively looking for reassurance and confirmation of cleanliness within their workplace environment.
Under a set of pandemic-management protocols that Forrester recently laid out, there are five key areas to consider as employees return to work:
Maintain a rigorous cleaning schedule
Limit the number of people in in-person meetings
Perform temperature checks and check travel histories prior to entry
Increase the physical distance between workspaces and desks
Identify and offer extra planning around essential workers
These are initial areas to address, but once people return to work in volume, we expect to see wider impacts on what employees ask from employers.
For example, a major trend over the last decade that will likely be challenged is hot-desking within open-plan offices. The benefits for organizations haven't changed (such as lower office costs through flexible occupancy), but how can workers be reassured that the stations they work at are clean? This will be a challenge both for businesses that maintain their own hot-desking areas as well as businesses that offer coworking shared spaces such as WeWork.
One way to approach this challenge is digital signage and sensors that recognize when a workstation has been vacated and can automatically request a cleandown (much like a restaurant table would be), leaving that station out of service until it has been tended to.
Other practices that were once normal—such as a co-worker stopping by your desk with a question—will now become unusual as employees expect clearer personal boundaries.
Many companies have already adopted digital communication within offices—such as messenger or chat software—while others saw this as something reserved for remote communication. Organizations that adopt these asymmetric ways of working and empower their teams to communicate more digitally even at the same location will see the benefit in employee satisfaction as well as productivity.
The current focus for employers must be to understand all of the touchpoints that relied on proximity or physical interaction, then consider the ways of transforming these through technology.
Reimagine customer-facing functions
Any business functions that have either direct or indirect contact with their customers will need to adapt significantly—at a minimum until normal health patterns return, but likely beyond that time due to changes in customer preferences.
One of the most high-profile examples so far of the importance of visible changes to hygiene practices has been Amazon's announcement that it plans to invest $4 billion in profits back into its supply chain to adapt to the current conditions.
By publicly committing to maintain appropriate practices and extra protections for Amazon workers, the company is differentiating its offering and providing an attractive draw for customers to favor Amazon over other services that are not making the same commitments.
The hospitality sector was immediately impacted by the shelter-in-place orders that were implemented around the world, and it will be one of the last sectors to come back online, even in a limited manner.
As with workplaces, businesses need to go beyond the core practices that are mandated (such as social distancing) and rethink their customer touchpoints in order to cater to a new, more cautious customer.
Ways in which digital technology could be deployed here include replacing in-person ordering with apps or voice technologies, or similarly to replace the physical buzzers commonly used to let diners know that they are ready to be seated.
Customer experiences in "commodity" services are well positioned to take advantage of digitization—hello, automated grocery shopping—but high-end or more involved purchases that have historically depended on personal sales and human interaction will need to be amended in order to deliver a premium experience within the new environment.
There are early indications from industries such as fitness (which has quickly pivoted to digital training programs) and alcoholic drinks manufacturers (offering virtual tasting sessions with deliveries to customers' homes) about how this could be adapted.
One area that will certainly be subject to change: businesses that in some way catered to customers' desires to belong and interact with others (e.g. busy bars and restaurants, packed sports stadiums, and crowded music venues) will need to look toward ways that digital technology can be employed to replicate some of these experiences—at least until people are safe and comfortable to come together again.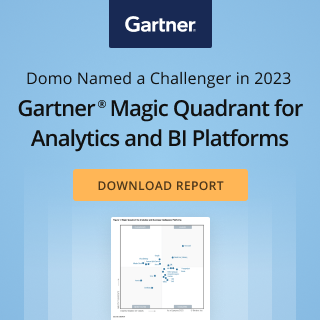 Check out some related resources:
'Future of Work' E-book: How to Safely Reopen the Workplace
Privacy Considerations for Safely Getting Back to Work
A Decentralized Future – A Case For Consideration
Try Domo for yourself. Completely free.
Domo transforms the way these companies manage business.