/ Building Operations: a checklist to make sure your building is ready to open
Article
Building Operations: a checklist to make sure your building is ready to open
Recently, the CDC released detailed guidance regarding priorities that must be addressed to ensure an office building is safe for occupancy before welcoming any employees back to the office. Though some of the priorities on the CDC's checklist may seem obvious, such as opening windows to allow air to circulate, it's important to remember that nothing related to employee health and safety can go overlooked in the post-pandemic work landscape.
No matter the size of your business, creating a "Safe Occupancy Checklist" to make sure that your office(s) is local, state and federally compliant for the safety of your employees should be at the top of your priorities of your getting back to work plan. The Checklist should answer questions like "Which areas of the office are the most highly trafficked, and what can I do to ensure people stay spread out?" and "How will we increase sanitization requirements across all areas and surfaces?"
To get started building your Safe Occupancy Checklist, take a look at the below considerations for a safe and smooth re-open:
1. HVAC units should be inspected and fitted with the newest/most highly-graded filters to help eliminate the risk of re-circulated droplets
According to Chris Nelson, President of Carrier Global Corp.'s HVAC division, "The most important step for any business is to do a full checkup and proper maintenance of existing systems before they start letting people back into their building." Though the United States has some of the most rigid standards for ventilation, set by local and trade organizations that apply to building codes, consider having your HVAC re-inspected prior to welcoming employees back to the office even if you've already fulfilled your inspection requirements for the given period of time. This will help reduce the risk of HVAC system issues after not having been used for several months.
Setting this reminder up in a product like our Facilities App makes it easy to follow up on, guaranteeing that it doesn't fall by the wayside in the ocean of 'get back to work' planning tasks.
2. Check for and address common issues that can result from prolonged building shutdown
The most immediate issue that comes to mind in buildings that have been closed for a significant period of time is stagnant water in pipes. Going from thousands of gallons of usage a week to nearly zero means that there is a high likelihood that the office's water supply could be contaminated and cause health issues if the water was not shut off properly after employees were sent home in mid-March.
If you own your space, inspecting water supply post-shutdown should be at the top of your facilities management Checklist If your office space is leased from a commercial landlord , then this issue should be flagged to whomever is responsible for the facility operation of said building. The EPA recently put out guidance regarding the restoring of water quality based on the variables of how your building was left. This includes inspecting all areas for any water build-up or dripping, signs of vermin or insects, or structural damage due to leaks or pressure build up in the pipes that can impact all lines that feed into your water supply.
3. Retrofit restrooms for maximum cleanliness
It's a widely held view that the toilet seat of a public restroom is the most germ-laden surface in any area of public use. But that's not exactly true. According to research conducted by microbiologist Charles Gerba of the University of Arizona, "The average toilet paper dispenser has more than 150 times the amount of bacteria than the average toilet seat. The picture isn't much improved when it comes to paper towel dispensers. These were found to have over 50 times more bacteria on average than a typical public restroom toilet seat."
Thankfully, there has been much innovation in restroom dispensing tools in recent years, so in addition to maintaining excellent sanitization protocols, you can also maintain sustainable and eco-friendly practice(s). The goal is to make communal areas like restrooms as "touch-free" as possible — the health and wellness of your employees will outweigh the upfront investment costs. As part of your facilities management plan for the restroom, ensure exhaust fans in facilities are functional and operating at full capacity when the building is occupied.
4. Prioritize "clean" ventilation areas in your space
When it comes to ensuring clean air in your office space, you need to consider not only the air coming in, but also the air being pushed out of circulation. Some states have their own guidelines regarding ventilation requirements for commercial spaces (e.g. building codes), but you may need to address the floorplan of your office space. Making sure employees are working in the areas closest to clean ventilation zones, away from high-risk areas such as visitor reception or exercise facilities is optimal, meaning that furniture setup may have to be rearranged. If it's not possible to structurally change the layout of where your people work, consider investing in advanced filtration equipment that can help augment your existing ventilation system.
According to the Chicago Tribune, companies are creating their own guidelines to protect employees' health and safety. "Ideas discussed include having everyone in an office walk in a clockwise or counterclockwise direction like one-way traffic on a road, moving desks so they don't face one another, installing barriers between workstations and reducing crowds in highly populated areas like cafeterias and conference rooms. Employers also must decide whether masks or other face coverings will be mandatory."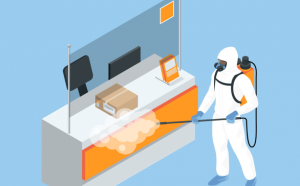 5. Stay aware of building-specific regulations mandated by your landlord
Beyond abiding by state, local and company compliance guidelines for getting back to work, businesses housed in coworking spaces or as a direct lease agreement will need to ensure they are fully aware of policies being implemented by their landlords post-COVID. Take the time to also examine any new amendments to your original lease contract, as not all commercial contracts contain provisions that excuse non-performance caused by natural disasters. There may be situations where the building leaves the decision-making to the leasee, but still reserves all liabilities to the company — so keeping on top of any changes to building policy is vital.
Creating a Safe Occupancy Checklist is all about establishing a plan and executing upon it consistently, being flexible and adapting based on the data-backed insights gathered from the implementation of that plan. It's quality, timely data that bridges the gap between effective strategy and execution of facilities management — and Domo can bridge that gap through our suite of on-demand, mobile-first apps, helping business leaders make informed 'get back to work' decisions.
Need more support? Domo's Facilities App is available
To help answer some of these questions, Domo has built an on-demand Facilities App to empower business leaders from organizations of all sizes to manage the operational and logistical considerations for safe and efficient office reopenings. The app makes facilities management simple by enabling users to build customizable reminders for building sterilization, flags areas of heavy use and automatically issues reminders when cleaning or maintenance is required.
The Facilities App is fully customizable, and we work with our clients hand in hand to address more complex issues that make it onto their Checklist, ensuring that any area of get back to work facilities management is seamlessly woven in. No matter the size of your business or the sector that you operate in, our goal is to help keep your people safe with data-driven tools to take the guesswork out of the get back to work equation
Check out some related resources:
'Future of Work' E-book: How to Safely Reopen the Workplace
How COVID Changes Elements that Shape the Way We Work
Get Back to Work: 9 Success Factors in Returning to a Physical Facility
Try Domo for yourself. Completely free.
Domo transforms the way these companies manage business.