/ Everything you need to know about executive dashboards
Article
Everything you need to know about executive dashboards
Dashboards are tools that provide companies with the information they need to make better decisions. They're designed to make data easy to access and understand in a single place.
They turn your data from numbers on a page into useful, intuitive visualizations, which help users understand data in a more agile, flexible way. In this way, dashboards make company-wide data-driven strategies possible.
Dashboard technology has grown by leaps and bounds over the last decade, so there's a much wider variety of options than ever before, especially for executives.
Instead of looking at the details of a single department, an executive dashboard takes a high-level view of business operations and financial health. With an executive dashboard, high-level decision makers can use data to back up their strategies and find novel insights.


Get access to key metrics
Executive dashboards provide instant access to key performance metrics. They're an excellent way for leaders to get a high-level overview of the company and make quick decisions about what's working, what isn't, and where they should focus their time and energy.
Here are some other reasons why executives should care about executive dashboards:
They help you make more effective decisions.
They can help you identify trends in your data.
They support your leadership objectives by providing relevant information.
They are easy to understand with simplified visuals.
They collect all of your relevant data in a single location.
Their data analytics help to justify new company decisions.
An executive dashboard is a tool that can help business leaders see their performance metrics in an easy-to-understand format. This can make it easier to identify problems and opportunities, allowing them to make better decisions faster.
They're also a powerful tool for keeping tabs on progress, making adjustments as needed, and communicating with stakeholders. With decision-making in mind, it's important to know how executive dashboards can be used to communicate information and drive insight.

Executive dashboard best practices
Broad, high-level executive dashboards are only possible with the power of a modern, market-leading business intelligence solution. BI tools are the only software solutions that can connect to all of the data that an executive needs to make their decisions and then turn that data into simple, effective visualizations.
Not all BI tools can provide the same level of value to executives, though. Some tools are much better or much worse than others, and businesses interested in BI need to navigate the space correctly to find the tool that's right for them.
There are some key features and criteria that businesses can use to determine whether a given BI tool will effectively meet their dashboarding needs. If you're planning to select a BI tool for its dashboarding usefulness, you need to know how to choose a tool effectively.
First, choose a tool that is easy-to-use for both data analysts and non-technical people. The more intuitive the interface is, the more likely everyone will be able to get up and running with their data in no time at all. This is especially important for executives, who rarely have any explicit data training.
Many BI tools expect businesses to have a data team or support staff who will manage the tool full-time. That's not an effective strategy nowadays, and businesses need tools that everyone can use. Look for tools that advertise as 'self-service'— these tools are designed with data novices in mind.


Next, look for features that allow users to easily create custom dashboards based on the kinds of metrics and data that matter most in your business environment. This could be everything from account management to customer satisfaction to competitor research.
Often, business tools only offer baked-in dashboards and reports. There's very little opportunity for businesses to adapt the dashboards to their needs, and even less opportunity to customize them even deeper.
Businesses that are looking for dashboard success need to select a tool that allows for more flexible, user-led dashboard building. Look for tools that advertise 'ad-hoc' dashboarding features.

Must-have options in BI executive dashboards
To build an effective executive dashboard, there are some features that businesses can't compromise on. Make sure your tool has these capabilities before you build your whole executive strategy around them.
Customization
Customization is a very useful feature of your executive dashboard, as it allows you to make the dashboard fit your specific needs.
Customizability can mean two things– the ability to build custom dashboards that communicate unique business data and the ability to change and customize individual visualizations so that they better communicate information.
Since executive dashboards are only designed for a handful of people, it's important that dashboard builders tailor their designs to those people. Executives want to be able to understand their dashboards as easily as possible, so it's important that dashboard design can facilitate that.
Cloud operations
Cloud-based BI solutions aren't stored on-premise on a company's own servers. Instead, they're stored remotely, and companies can access them through the Internet. This way, users can access them from anywhere, instead of just through one computer or on one network.
Many of today's businesses have moved to a remote or hybrid work model. Having a cloud-based solution not only improves communication with geographically varied team members, which allows for better teamwork.
Executives often work out of the office. Whether they're on-site with a client, on vacation, or just late to work, they need the ability to access their executive dashboards from wherever they are. Cloud-based BI solutions allow for that flexibility.
Data integration
To effectively leverage the power of a BI system, businesses need to be able to connect all of their business data to the tool. Otherwise, they won't be able to get that sort of high-level insight.
BI tools can bring various data sources together into one place where you can easily see them all on one page. This empowers your executives to leverage modern business intelligence at a glance.
The benefits of using this method are twofold: firstly, it saves time because you don't need as much manual input; secondly, it allows you more flexibility when viewing your data because there are fewer filters between the end user and their data.
Collaboration
Collaboration tools are an essential component of your executive dashboard toolkit. They allow you to share dashboards with others, thus allowing them to see your findings and work collaboratively with you on their own projects.
Collaboration is a key part of the process, as it allows team members to get feedback from each other on what they're doing and how they can improve.
It's extremely important for executive dashboards since executives almost never build their own dashboards. Without good collaboration features, it's very hard to get executive dashboards to the people who actually need them.

The modern executive dashboard is versatile
It's essential to have a tool that allows you to easily create your own dashboards based on the kinds of metrics and data you need.
It should allow users to create their own dashboards based on the metrics they need and then share them with other people in the organization who are interested in seeing them as well.
With this sort of dashboard-driven, data-driven culture, executives can easily access the sorts of insights they need to make effective decisions and build forward-looking, data-driven business strategies.


Just about anyone can build an executive dashboard
In the past, dashboard design could only be done by trained data professionals. If you wanted to make one for your company, you'd have to hire a team of designers and programmers to create it for you.
That's not the case anymore. Technology has improved enough that it's much easier for just about anyone to create useful dashboards themselves without external help.
From there, it's easy to create executive dashboards that can communicate information to high-level decision makers. With the power of a BI tool, executives can access their data in a simple, flexible way.
Good executive dashboards can help leaders make better decisions faster by providing them with the information they need at their fingertips. They can be used to track everything from sales and profits to customer satisfaction, and they can be customized to fit your needs.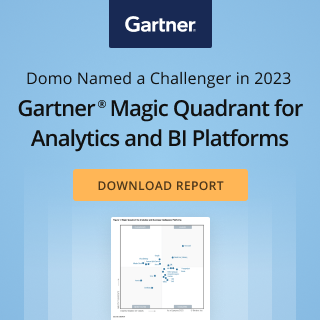 Check out some related resources:
Domo Showcases ESG Solution for Gartner BI Analytics Showdown
Creating modern data experiences that help your customers succeed
Domo Ranked #1 Vendor in Dresner Advisory Services' 2023 Cloud Computing and Business Intelligence Market Study
Try Domo for yourself. Completely free.
Domo transforms the way these companies manage business.