/ Data curiosity: How to enable your business users to use their data
Article
Data curiosity: How to enable your business users to use their data
Data skills are becoming more and more prevalent in virtually all industries and job responsibilities. Business intelligence (BI) tools can promote data curiosity within your organization and enable your employees to generate their own unique insights.
BI should enable end-users to make their own discoveries. This is what we call data curiosity: the ability for an end-user to derive unique insights from their data using ad-hoc analysis. Data curiosity should be promoted within your organization as much as possible, as this will help you become a data-driven business.
What is data curiosity?
Data curiosity naturally occurs within a business as your employees begin to investigate the data they use on a daily basis. When employees go about their day-to-day tasks, they will have questions about the data and will want to investigate potential hypotheses with the data. This is what we call data curiosity.
Why should I promote data curiosity in my organization?
Business users in every department are naturally curious about the data they use on a daily basis. Oftentimes, there are useful insights that can increase productivity buried deep within this data. Business users who are curious should have the freedom to explore this data through ad-hoc reporting, visualization, and in-depth analysis, and they can accomplish this using a modern business intelligence (BI) tool.
BI tools should be easily accessible and widely used throughout the company. Rather than being siloed in IT or engineering teams, BI tools should be available for every single employee – no matter the job role. If you have thousands of employees in your organization, think of the tens of thousands of insights that could be organically generated as they ask questions about their data.
In the end, nobody understands the data better than the end-user, and the goal should always be to enable them to create their own BI content.
What should I look for in a BI tool?
An easy way to promote data curiosity within your organization is to use a BI tool that is both user-friendly and built for the business user in mind. Employees don't have much time for training; they require a tool that they can get started with immediately, without needing to involve the help of IT or technical resources.
BI tools can vary in terms of complexity and cost, but it's important to remember the end goal of the tool: to promote data curiosity and generate actionable insights for the organization. Always keep these things in mind when selecting a BI tool:
1. Ease of use
The BI tool you select needs to be intuitive and easy for any of your employees to pick up and use. Many BI solutions can be overwhelming and are more focused on analytics and IT teams. Find a BI tool that requires little to no training.
2. Time to value
Your business should be able to gain insights from the BI tool almost immediately. Make sure to select a tool that requires very little implementation time. Cloud-based solutions are a great choice here because the infrastructure is fully managed by the vendor, meaning you don't have to involve your internal IT teams to get started.
3. Company-wide access
The BI tool you select should be made available to every single user in your organization. Since data curiosity can occur in all departments and levels within an organization, it doesn't make sense to silo the tool unnecessarily. An easy way to get started is to purchase the tool for a specific team that can test it, and then perform a full roll-out to the organization once you've determined it to be effective.
4. Potential for growth
As you begin to use a BI tool, you will start to see more and more excitement as your end-users have access to data they had never had before. These tools are enabling for business users and can help make them more efficient and productive with daily tasks. Make sure to purchase a tool that will allow you to scale in the coming years. Oftentimes, a BI tool can start in a single organization and organically grow to the entire organization.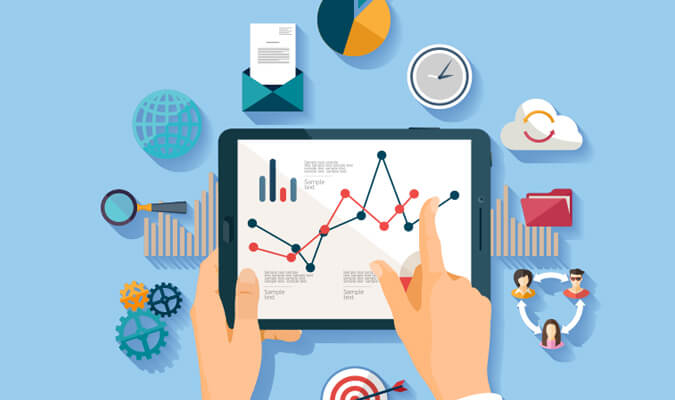 How do I enable my end-users to find their own insights?
Companies can also create a center of excellence (COE) for business intelligence and analytics. COE programs can be very successful with the right sponsor, so it's important to find an executive who believes in the vision of what BI can accomplish.
Businesses can also institute a hub-and-spoke model for analytics, where each department has a data specialist in charge of running BI for the team. This team member should be fully integrated into the org to ensure alignment between priorities and execution. For example, a BI analyst would be a great fit for sales operations whose main priority is sales enablement. By engaging with the sales team, the BI analyst can ensure they are producing quality dashboards and reporting that will provide tangible benefits for their sales reps.
Promoting BI as the single source of truth for your organization can rapidly speed up its implementation and widespread adoption. By communicating the importance of using the tool to your employees, you can ensure they understand the importance of it. It's also extremely important that your executive teams use the BI solution as well to generate their own insights. As teams and individual contributors start to see their managers use the tool, it will motivate them to get started.
Conclusion
As you continue to foster a data-driven approach in your organization, you will start to see organic growth in your BI content driven by the increase in participation of your end-users. Employees will start to get excited about how their content is changing and improving the business, and this will fuel even more teams and employees to join in. It truly is an exciting time for data and BI tools, as they have come such a far way in terms of design, usability, and impact on the business.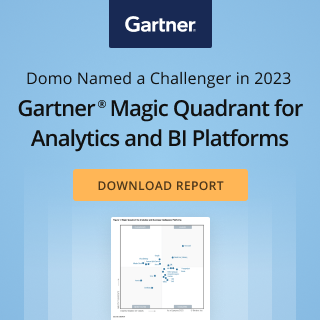 Check out some related resources:
How to ignite insight-driven decision-making across your business
Domo and Walker Edison Named 2022 Nucleus ROI Winners
Variables use case and feature walkthrough
Try Domo for yourself. Completely free.
Domo transforms the way these companies manage business.