/ Creating real-time data pipelines for businesses of any size
Article
Creating real-time data pipelines for businesses of any size
Businesses of all sizes can benefit from having a data pipeline in place. A data pipeline allows you to collect data from a variety of sources and then process it in a way that makes it easy to analyze. This is valuable for businesses because it allows them to make smarter decisions in real-time. In this blog post, we will discuss how you can create a data pipeline for your business using a BI tool.
What are data pipelines and why are they important for businesses of any size?
Data pipelines are tools used to export data from source systems into business intelligence (BI) systems for future analytical processing. A data pipeline can involve many steps.
Data ingestion
Data pipelines first begin by connecting to source systems where your data resides. These systems can be different business tools your company uses, customer databases, transactional databases, or even sources as simple as email and call records. Data pipelines allow you to automate the export of the data on a regular cadence, and can often import data in real-time.
Data cleansing
Data pipelines also have to deal with erroneous data. This data may be incomplete, in an inconsistent format, or may be the wrong data type. Validation rules can be created in the data pipeline to ensure the integrity of the data.
Data transformation
Data normally has to go through a transformation process in order to become valuable to the business. Data transformation techniques include aggregating — or summarizing — the data, joining data from different sources, or appending the data to create a complete table.
Data storage
The final step in a data pipeline is storing the final product in a BI tool. Many vendors offer managed cloud services that make it incredibly easy to store your data. That data can then be analyzed and consumed by business users as they log into the BI platform.
How can you create a real-time data pipeline for your business?
Creating a data pipeline is not a one-size-fits-all process. The steps you take will depend on the specific needs of your business. However, there are some general steps you can follow to get started.
To start, you need to identify the data sources that you want to collect data from. This could include data from your website, social media, CRM system, or any other source. Once you have identified the data sources, you need to decide how often you will need to import the data into the BI tool. If the data is critical to day-to-day business operations, you can create near real-time data pipelines.
Modern business intelligence tools are making it faster and easier than ever to create data pipelines—regardless of the size or complexity of your business. Using pre-built tools, BI can automate the ingestion, transformation, and output of the data. This can greatly reduce the headaches for your IT teams, and also allow business users to take part in the creation of the data pipeline.
What benefits will your business see from having a real-time data pipeline in place?
The biggest benefit to data pipelines is the ability for your business to see its data in real-time. When your business leaders are trying to make important decisions that produce big consequences for the company, you want to make sure they are as informed as possible. Data pipelines allow your business to have access to all the business data they need to make these smart decisions.
Real-time data pipelines also promote an analytical mindset within the organization. When data is constantly flowing from source systems to the BI tool, analysts and business users of all kinds can start digging into it to produce real-time insights. Imagine the possibilities of being able to get answers to your reporting questions in minutes, rather than months or days with traditional reporting.
How can you ensure that your data pipeline is as efficient and reliable as possible?
When constructing a data pipeline, it's important to understand the end goals of the implementation. What business processes are you hoping to improve with this pipeline? Which users will benefit the most from having real-time data? These are important questions to consider before starting a data pipeline project.
Another important consideration is understanding how often you need your data to update from source systems. Best practice here is to update the data only as often as needed—whether that's once a day, once a month, or even every minute. Understanding the source systems where your data resides is also important when determining update time. For example, many finance and accounting softwares only update once a day. This means your data pipeline from those systems should mirror that update time, thereby preventing unnecessary data processing.
How can I maintain my data pipelines?
Good data pipelines are constantly being improved and tailored to the unique business processes that they serve. BI tools are excellent at maintaining data pipelines because they are very intuitive and easy to update. Following an ETL process (which stands for 'Extract, Transform, Load'), data pipelines can be maintained with minimal manual intervention.
As data becomes more and more prevalent within your organization, it will also become important to invest resources in training and employee headcount. Having data experts who understand the BI tool you use can save you time and headaches down the road. These employees can continue to build new data pipelines for your business as you continue to foster a data-centric culture.
Conclusion
A data pipeline is a valuable asset for businesses of all sizes. By collecting data from a variety of sources and then processing it in a way that makes it easy to analyze, you can make smarter decisions in real-time. If you're not already taking advantage of this technology, consider implementing real-time data pipelines for your business today. BI tools can be used to easily create data pipelines for businesses of all sizes. No matter the industry or size, your company can experience massive benefits from implementing real-time data pipelines.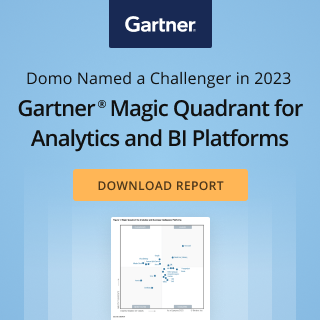 Check out some related resources:
Domo Showcases ESG Solution for Gartner BI Analytics Showdown
Creating modern data experiences that help your customers succeed
Domo Ranked #1 Vendor in Dresner Advisory Services' 2023 Cloud Computing and Business Intelligence Market Study
Try Domo for yourself. Completely free.
Domo transforms the way these companies manage business.