/ Choosing the best embedded analytics solution for your business
Article
Choosing the best embedded analytics solution for your business
Businesses need to consider analytics as part of their necessary infrastructure from day one. The high volume, high competition marketplace demands a more bespoke customer experience that is only possible through the proper interpretation of massive amounts of data. That cannot happen without embedded business analytics.
Using this technology benefits your customers just as much as your internal processes. You gain invaluable insights about how to cater to and cultivate a more streamlined business operation. Customers get a more personalized experience that they can rave about to their friends, family, and co-workers.
Finding the right solution for your business requires a bit of research and asking some critical questions about the services provided. You do not want to make an investment in this integration only to lose out on the numerous benefits down the road. Here are some key insights into finding the best embedded business analytics solution for your organization.


What is embedded business analytics?
Embedded business analytics is a software solution that allows you to add data, visualizations, and dashboards to your existing application. With embedded business analytics solutions, you can analyze the performance of your products and services at every step of the way—from sales and marketing through production to customer experience.
An excellent example of this type of solution is a monitoring analytics tool that tracks the movement of customers throughout your online website. Whenever a customer leaves the page or scrolls away from products, an internal pop-up appears offering a discount to encourage them to stay and make a purchase. The data collected about the client from cookies and other sources determines the type, size, and duration of the coupon.
This kind of interactivity encourages a more intimate shopping experience that is only possible through modern embedded business analytics.

Should you buy or build your system?
If you want to focus on your core business and use a third-party provider for analytics, a ready-made solution that's easily customizable is the best option for you.
However, if you prefer to own the code or if it's part of your company's culture to create everything from scratch, building an embedded analytics model may be the right choice.
Most of this decision will revolve around your current capabilities and whether you can safely and efficiently integrate these analytics into current systems already in place. Take the time to wrap up with your IT team first. If you do not have any IT skills or team members, consider no-code or low-code solutions that do not require extensive computer skills.
What are the "must-have" elements of modern embedded analytics solutions?
Besides the obvious security and speed, you are going to want to customize these tools as much as possible. Not every business is the same, and you are trying to differentiate yourself in an ever-growing crowded marketplace. The best solution is to have tools that can be curated to properly fit into your goals and operations. They should also:
Work with classic and modern analytical tools
One of the most important aspects of any analytics solution is its ability to integrate with other systems and applications. For example, if you want to analyze traffic patterns based on weather conditions in your region, you can use your embedded analytics tool to pull data from a weather service and combine it with traffic information that's stored in your ERP system or other internal databases.
Using existing integration capabilities within your company will help ensure you have access to all relevant information without having to build custom interfaces or write code for every new partnership that might result from an analytical project.
In addition, many modern analytic tools allow users (including non-technical ones) to query across an entire collection of data without having direct control over what sources are being queried or how those queries are constructed. This feature is crucial for users who have no programming experience.
Blend easily with current software, UX, and products
Most embedded business analytic tools are built to put the end-user first. They are the purchase point solutions to improving sales and customer relationships by providing a more personalized experience.
When you are looking for the best embedded analytics solution, it is vital to make sure that it will fit seamlessly with your existing software and UX. The easier it is to integrate your new system into your current products, the more likely you'll be able to take advantage of its full potential.
Improve customer interactions and business operations
There is no point in using a system that cannot improve your business operations. Every person that interacts with your business needs to feel like their personal wants are being met. An embedded analytics solution can help you tailor your products and services to your customers, which will increase their satisfaction.


What is the best way to choose an embedded business analytics partner?
In order to choose the best embedded analytics solution for your business, you'll want to look for a company that has a long history of success. This will ensure that they know what they're doing and can provide you with the most effective solutions.
Also, consider choosing a partner who can offer long-term strategic consulting services as well. By partnering with this type of firm, you'll be able to enjoy better performance in the short term and long term.
They may not need direct experience in your niche market or business, but relevant success based on previous experience with related organizations is a big plus. Take your time and ask questions before committing. Think about the following:
Do they know what they are doing?
It's important to look at the team behind any analytics solution. You want to make sure that they have a strong track record of success. Look for credentials or portfolio examples of their achievements.
What are their security procedures?
Security is a critical concern for any business today, as companies must ensure that their customers' data remains secure at all times. Many businesses use an embedded analytics solution that integrates with other systems, allowing them to store their customers' information in one central location while still accessing data from multiple sources. This type of integration helps businesses share information quickly and easily across departments or offices within an organization.
If any of this valuable customer data is placed at risk, you could experience a severe downfall in marketability due to poor press and customer reviews.
Do they offer technical expertise?
You want to make sure that they have experience with designing software solutions capable of meeting all of your specific needs while also providing ample room for future growth. If a company cannot offer this type of flexibility or scalability in their work product, then they may not be able to deliver on their promises or even complete your project successfully.
If they are a no-code or low-code solution, they should provide exceptional customer support for API and third-party applications. This way, you can get the integration you need without having to hire outside consultants.
In addition to having excellent technical skills themselves, firms must also understand what businesses need from them to deliver on their promises effectively and efficiently every time without fail.
What about providing ongoing support?
Embedded analytics is a long-term investment. It's not something you can just pay for and then let sit on a shelf, gathering dust. You need to constantly be reviewing your data, making improvements to the system, and collecting more data for it to be helpful.
It's also important that you have someone who can provide ongoing support for your project. This will ensure that all of your questions are answered quickly so that you can make progress on implementing embedded analytics in your company without worrying about getting stuck somewhere along the way.
Do they share your core values?
You are agreeing to work with a company over a long-term partnership. That means they need to share some of the core values and business philosophies you have. At the very least, they need to complement your operations without compromising the shared values of your target customers.

Get started sooner rather than later
Embedded business analytics offers a range of benefits, not the least of which is maximizing your potential sales returns and volumes. When selecting an embedded analytics solution, you must choose a vendor specializing in the area and having experience with your industry. The world of data analytics is constantly evolving. It takes a competent team to keep up to date with the latest capabilities. This will guarantee that your end product is top-notch, which you want for both your company and your customers.
Take your time to review what is currently available on the market so that you find the best possible partnership moving into the future.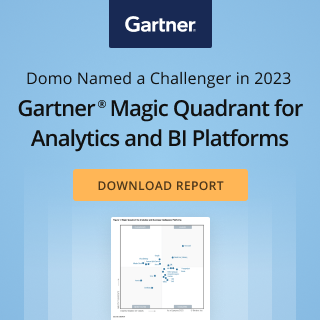 Check out some related resources:
Harnessing the Power of Data to become a better Credit Union
Creating modern data experiences that help your customers succeed
Domo Named a Leader in Nucleus Research's 2023 Analytics Technology Value Matrix
Try Domo for yourself. Completely free.
Domo transforms the way these companies manage business.