/ Bespoke business apps: Why invest In customized applications?
Article
Bespoke business apps: Why invest In customized applications?
Enterprise business owners face two competing issues in today's economy: staying ahead of the latest technology for scalability while cutting extraneous costs. Finding the right business intelligence tools for your company can often feel overwhelming, with high costs offering too many services you don't need.
The solution? Customizable BI platforms that allow for the development of business applications designed specifically for your company's needs.
In this article, we will take a closer look at the rise in bespoke applications, why they are essential, and the top benefits of investing in them.
What are bespoke business applications?
Bespoke business applications are software that is specifically designed for a certain company or organization. Unlike off-the-shelf software, these applications are not available to the general public and must be custom-built for a particular use case or end-user.
These applications can be tailored to each client's unique business needs, taking their functionality and efficiency one step further. They are often the result of integrating several different off-the-shelf tools or systems in order to create an optimal user experience.
The problem with traditional software applications
Off-the-shelf software is designed to meet the needs of the market in general, not specific businesses. As a result, this software often lacks the level of customization an organization needs to truly address its use case. Mismatched features, lack of integrations, and a poor user experience can all be drawbacks to using an out-of-the-box solution.
What's more, rigid off-the-shelf software requires regular updates and can be difficult to troubleshoot, resulting in more time spent on upkeep. This doesn't mean you should avoid off-the-shelf software altogether, but finding a tool that allows for custom application development on top of an existing platform is key.
Custom software is cost-effective for businesses of all sizes
Combining a flexible BI platform with a custom application produces a cost-effective strategy. When you factor in costs for resources, time, and upkeep, custom applications combined with existing platforms typically save companies of all sizes money when compared to homegrown solutions.
It's not just small businesses that benefit from customized software, either: Fortune 500s and global enterprises also rely on bespoke applications to reduce costs and streamline their workflow.
Why invest in bespoke business applications?
Bespoke applications are designed specifically for your business, which means they can offer a range of benefits to help you stay competitive and take your business to the next level.
Here are our top three reasons why investing in bespoke applications is one of the best choices you can make for your company:
1. Customization: increased efficiency and scalability.
With off-the-shelf software, companies rely on that software to meet every need, requiring them to upgrade or add on additional tools. This can be costly and time-consuming for companies of all sizes.
When you invest in a platform that offers the ability to build bespoke applications, you're provided the opportunity to customize these tools for your unique needs and organization.
For example, say you're a manufacturing company that produces robot vacuums. While a traditional BI tool will offer a variety of pre-built visualizations, a platform that allows for custom application development will allow you to create an interactive experience that tracks each robot's activity in real-time. A bar chart, pie chart, or line graph may do, but an interactive map that displays live animations and allows for filtering and drilling will provide a much more informative experience.
2. Greater flexibility and control over your data.
When choosing bespoke business applications, companies are given greater flexibility over how their data is stored and how it's transformed.
This gives companies more control over their data architecture and helps them prepare data for reporting in a way that makes the most sense for presentation and scalability.
For example, a flexible BI platform can assist in integrating across several disparate systems, transforming and combining the requisite datasets, and then governing the access to said information. Once the data has been normalized and is ready for reporting, a custom application can be developed to present the information in a bespoke manner.
Leveraging the existing infrastructure of a flexible BI tool combined with the experience of your own custom application provides maximum scalability and functionality.
3. Increased overall productivity and collaboration.
A major benefit of bespoke business applications is increased productivity. Custom applications are designed to be more efficient and reduce the amount of time spent on tasks that are not essential to your business goals.
For example, say you're a company that relies on customer service calls to generate sales.
With custom applications, you can build in features that automate certain tasks, such as sending out emails or placing calls for you, freeing up your team to focus on generating sales and delivering exceptional service.
In addition to making it easier for your employees to get things done, custom applications can also help them work together more effectively.
Integrating bespoke applications with other systems in your organization provides a centralized location where you can share critical data and collaborate on various tasks, projects, or initiatives.
This means that all members of your team have access to the same information, eliminating the need for multiple emails and attachments.
4. Save time and money over the long run.
One of the best aspects of investing in a pairing of a powerful BI platform along with a bespoke business application is that this approach can actually save you time and money. Not only do you get a more efficient end result, but you also don't have to build the entire infrastructure on your own.
For example, say your company needs to manage inventory, customer, and financial records. If you were to take a homegrown approach, you'd have to pay to spin up a database, build a series of integrations, and then develop and design the front-end user experience.
When pairing a BI platform and a custom application, you only have to worry about building a front-end user experience that is designed for your specific needs, which can save you a lot of money in the long run.
Are the benefits worth the investment?
The answer to that question depends on your company's specific needs and budget. However, it's important to remember that the benefits of bespoke business applications are not just limited to increased efficiency and productivity.
Customized software can also help you better manage your data, comply with regulations, and compete more effectively in your industry. When you factor in the rigidity of off-the-shelf software, and the cost of full-stack development, the benefits of custom applications are definitely worth considering.
As your company begins to consider investing in custom business applications, it's important to make sure your developers are well-versed in the latest technologies and know your industry inside and out. However, leading BI platforms also have resources you can leverage to build out your bespoke application if you don't have the skillset internally.
Regardless of the deployment route, a solution designed specifically for your unique needs and requirements is certainly within reach.
Conclusion
Pairing an industry-leading business intelligence platform with a bespoke business application, you get a system that's designed specifically for your unique needs.
With the right customization, these applications can lead to benefits such as scalability of back-end architecture, increased overall productivity, and cost savings in the long run. If your company is considering investing in software, be sure to explore the option of custom applications.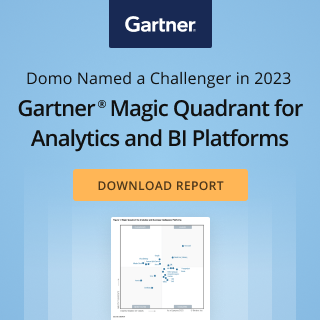 Check out some related resources:
Fight the 'Sleepworking' epidemic with better data and tech access
Domo and Walker Edison Named 2022 Nucleus ROI Winners
Domo Ranked #1 Vendor in Dresner Advisory Services' 2022 Analytical Platforms Market Study
Try Domo for yourself. Completely free.
Domo transforms the way these companies manage business.