/ Attaining Data Agility in the Life Sciences Value Chain 
Article
Attaining Data Agility in the Life Sciences Value Chain 
Companies everywhere are facing the challenges that come with managing and working with data. Within Life Sciences, the challenges are greater than most; few industries can say with honesty that their data-driven decisions are a matter of life and death.  
This article looks at some of these challenges, and the ways to take advantage of data agility, which involves the way you integrate, manage, and distribute your data for maximum impact. 
One major benefit that comes from data agility is increased speed, which is something that could greatly benefit the Life Sciences due to the amount of time it takes to bring products and services to market — and the number of hands that each product needs to pass through. 
Long and expensive development lifecycles are common across the industry; a new drug will typically take at least 10 years to pass through development, clinical trials, and production. 
Similarly for medical devices, there are regulatory steps and guidelines that add complexity when compared to products developed for other sectors. 
It doesn't need to be that way. The speed of response during 2020 and the search pace for COVID-19 vaccines will likely change attitudes toward these timelines, both within the industry and from customers.  
Said Dan Barouch, Director of the Center for Virology and Vaccine Research at Harvard Medical School, in a recent article in Nature: "It shows how fast vaccine development can proceed when there is a true global emergency and sufficient resources."
Beyond COVID-19, there are many projects and treatments that would benefit from shortened timelines and greater efficiencies. Research by McKinsey shows a potential savings of $300 billion from using big data within U.S. healthcare alone. 
If increased speed suits both the industry and customers, where can the improvement come from? Could the vast amounts of data that must be analyzed before a product can safely launch be managed in a more efficient way to enable decision-makers to get faster insights? And can better collaboration and integration of data help to shorten workflows? 
Improving data agility at each stage of the value chain
One issue that companies of all types face is data visibility across a complex value chain, due to data being siloed between departments or stages.  
Examples of this within Life Sciences include data that needs to be shared between adjacent stages, such as R&D and subsequent clinical trials, or silos that exist between distinct areas, such as clinical and commercial teams. 
Distributed geographical locations and separate IT systems can have a multiplier effect and cause greater issues that need to be addressed. 
In tandem with the lack of visibility, the volumes and types of data continue to grow. From telemetry and sensor data produced by medical devices to sensitive data from clinical trials, this challenge is widespread across the sector.  
The result is fragmented data, which leads to knowledge gaps that impede strategic decision-making. The priority for leaders needs to be on breaking down barriers between silos and harmonizing information between departments, data sources, and systems.
Enable faster operations by bringing data together to streamline workflows
The path to improving organizational data agility recommended by Domo is to bring all data together to create a single source of truth, which enables information from anywhere to be accessed internally across the whole organization and externally by partners while being governed centrally to give insights to the people who need them. 
As an example, a U.S.-based clinical life sciences company engaged Domo to help it perform operational reporting around its clinical trials to better understand enrollments, dose manufacturing, success rates, and more.  
Domo enabled the company to bring all this data into a single view and make more effective data-driven decisions around costs, investments, and risk management.
Once data is connected in Domo, it can be processed at much greater speeds and shared instantly across departments and locations so workflows are condensed and decisions can be made quicker and with more confidence. 
A Fortune 500 life sciences business used Domo to scale its counterfeit audit and internet search activities, which it hoped would improve the accuracy and efficiency of the search for counterfeit drugs for sale online. And it did; the business is now able to track down counterfeit drugs much faster than before and protect both its reputation and financial performance. 
Despite differences across the many types companies that make up the life sciences industry—from pharmaceutical to biotech to medical devices—these challenges exist and can be solved by modern BI methods and technologies. 
Better agility within your existing data and workflows will also enable the organization to explore its data in new ways, take more intelligent action than before, and experience what we at Domo call "Modern BI for All." 
Take your first steps toward delivering 'Modern BI for All' within your company
Find out how to bring your data together to improve operational speed and improve decision making by exploring Domo's Life Sciences Solutions or watching a demo to see Domo in action.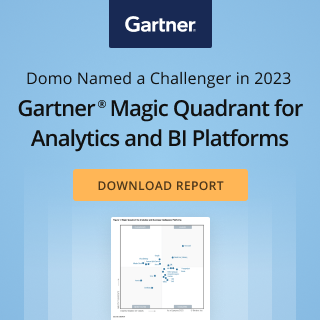 Check out some related resources:
Harnessing the Power of Data to become a better Credit Union
Embracing the future of data with augmented BI
POV: Next-Generation Banking
Try Domo for yourself. Completely free.
Domo transforms the way these companies manage business.