/ An intro to business intelligence integration
Article
An intro to business intelligence integration
If not used effectively, the data stream in this technologically advanced society might appear overwhelming for businesses. Since many diverse data sources exist, integration is the only method to derive meaningful insights from these unprocessed inputs.
Business intelligence integration incorporates data mining, data visualization, business analytics, infrastructure, data tools, and best practices to assist businesses and organizations. Speed to insight, flexible self-service analysis, and empowered business users are prioritized by BI integration.
Enterprise information originates from a variety of sources in various formats and frequently contains errors and duplicates. Users must take care to prevent problems in the original data from propagating to their results during the data extraction process. High-quality data may be easily accessible for making decisions by developing well-defined integration processes that not only consolidate data but also standardize it for quality and consistency.
Integrating your organization's data using a business intelligence tool means you can control who accesses any of the data. The most essential use cases for data integration is data analytics and report building, which many departments depend on. All company functions, including sales, customer management, and vendor acquisition, are impacted by properly integrated data. Businesses can continuously enhance their products and services by implementing this kind of integration.
For businesses to stay competitive and improve decision-making, BI integration is no longer a luxury but a requirement. Employ BI capabilities to develop a data-focused business to identify obstacles and achieve your objectives.
BI integration stages
The utilization of data in routine business operations is a comprehensive endeavor. Business intelligence integration comprises five critical stages, which are as follows:
1. Data gathering
Business intelligence is the process of obtaining information from various data sources, and then using that information to inform business decisions. This information could come from a variety of on-premise or cloud sources, such as databases, data warehouses, or other business automation apps.
2. Data evaluation
Business intelligence integration aims to create meaningful knowledge from data sets that exist within the systems of an organization. It entails assessing present trends, forecasting future trends, and integrating and summarizing different types of information in order to improve business processes.
3. Situation awareness
Business intelligence helps contextualize data for the business and its happenings. Understanding the context of data and making judgments is known as situation awareness.
4. Risk evaluation
Business intelligence aims to assist you in evaluating any present potential risks, benefits, and costs of one course of action over another. It involves digging into the data that influences your decisions and helps you understand the associated risks.
5. Supporting decisions
Using information wisely is the goal of business intelligence integration. For you to take preemptive action, it tries to alert you to significant occurrences like subpar employee performance or market shifts, depending on the metrics you track. It helps you make the right decisions and analysis to increase customer satisfaction, employee morale, and sales, for example. It provides you with the information you require at the appropriate time.
Advantages of BI integration
1. Governed and trusted data
BI systems improve data analysis and data organization. When using traditional data analysis, users must visit many databases to find the answers to their questions. These internal databases can now be combined with external data sources using modern BI integration to create a single data warehouse. Every department in a business has access to the same data at once, which eliminates data silos.
2. Increased organizational effectiveness
By utilizing BI integration, leaders may gain access to data, acquire a thorough picture of their operational processes, and evaluate the performance of specific departments against that of the larger organization. Taking a broad view of the company can help leaders spot possibilities.
BI integration frees up more time for enterprises to use data to develop new products and programs for their business because they spend less time gathering reports and conducting data analysis.
3. Increased employee satisfaction
Thanks to BI solutions, IT organizations and analysts can respond more quickly to business user requirements. With little training, departments that previously couldn't access their data without contacting analysts or IT professionals may now conduct in-depth data analysis.
4. Quicker analysis and clear dashboards
Data analysis is made simple and intuitive through business intelligence integration, enabling non-technical individuals to tell stories with data without learning any programming languages. Dashboards composed of simple, effective visualizations help business users of all skill levels comprehend critical insights.
5. Better decision making
Better business decisions are made possible by accurate data and quick reporting capabilities. Leaders are no longer required to wait days, or even months, for reports. When using BI tools that provide access to real-time data, users don't have to deal with the possibility of obsolete information.
6. Competitive advantage
When businesses are aware of their performance in the market, they can be more competitive. Companies can use BI to stay ahead of sectoral changes, track seasonal market shifts, and foresee clients' wants.
7. Enhanced customer experience
Integration of business intelligence can directly impact customer happiness and experience. By effectively analyzing pertinent data, businesses can find chances to enhance products and customer service.
Best practices for streamlining BI integration
An efficient integration plan is essential for successful BI integration in an organization. A successful integration is made possible by the following best practices:
Consider data security
Security measures are essential to have in place while implementing BI in order to safeguard your information assets from data breaches. Secure your organization's data by configuring authentication or authorization protocols and establishing protocols for secure data processing.
Develop a BI strategy
There is a reporting procedure in place for every business. Before establishing a new BI technology, it's crucial to assess current systems and determine which areas could be improved. Based on that data, you can create a unique design for your BI integration strategy depending on your particular business structure.
Install data integration software
The complete integration process will take some time. Choose a business intelligence solution according to your specific business characteristics and needs.
You may want to purchase a business-ready BI solution. Full-stack BI tools are a great option. These solutions use built-in connectors to take data from many sources, convert it into the necessary format, and load it into the target system linked to BI tools. Therefore, investing in them would accomplish both integration and reporting goals.
Conclusion
If you want your organization to succeed, it's essential to use a BI solution to integrate your organization's many systems and the vast amounts of data these systems produce.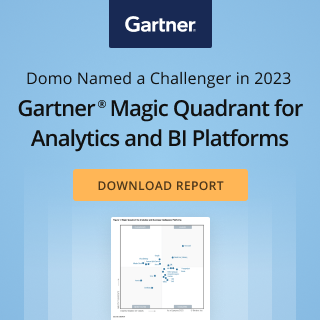 Check out some related resources:
Creating apps with no coding in 5 simple steps
Building Data Integrations on a Modern BI Platform
Domo Overview Demo
Try Domo for yourself. Completely free.
Domo transforms the way these companies manage business.