/ Accelerating business intelligence through AppStore solutions
Article
Accelerating business intelligence through AppStore solutions
Appstores offered by BI platforms provide pre-built apps to make it easy for customers to get up and running quickly, without having to build custom applications from scratch. In this article, we'll explore how BI solutions provide pre-built apps for their customers.
What is an Appstore?
Simply put, an Appstore is a marketplace in which customers can install or purchase custom solutions for their business. Appstores allow third parties to find solutions for specific businesses or industries.
Common apps on the AppStore
The Domo Appstore offers a variety of solutions for businesses of all kinds. Appstore solutions can be broken down into a few main categories. The end goal of all apps in the Appstore is to help customers improve their business by making better use of their data. Appstore solutions can be segmented into the following categories:
Pre-built dashboards
These dashboards are pre-built pages containing charts, graphics, and metrics. These dashboards are tailored to a specific business purpose—such as sales or marketing—and allow businesses to easily create their first dashboard with just a few clicks. Pre-built dashboards are an excellent way to demonstrate the power of BI to stakeholders, as they can import data from important data sources such as your CRM or bookkeeping software.
Data connectors
Data connectors are a special kind of app that allows for the automation and integration of different data sources into your BI tool. Data connectors are extremely popular on the AppStore because they allow non-technical users to access the data that they need. Modern BI has built 1,000+ data connectors to the most common business applications your company is already using.
Data science
Even if your company does not have dedicated data scientists, pre-built data science tools will allow you to explore the possibilities of data science within your organization. BI continues to advance in this area, creating more and more pre-built solutions that can help you make better-informed decisions.
Federated data
Federated data is a process that lets your data to stay at rest in the source system. Very few BI solutions now offer federated data connectors that allow the BI tool to act as an intermediary between varying systems. No data is being stored in the BI tool, but rather remains in the source system where it was created. This can be incredibly advantageous for organizations that harbor sensitive data such as personally identifiable information (PII).
How can apps benefit my business?
With such a wide variety of apps in the Appstore, it can often feel quite daunting to understand which tool to use and when. In the end, the AppStore should provide real business value to your company. The solutions you use from it can have several benefits, including:
1. Streamline manual processes
The Appstore can help you streamline manual processes that are currently burdening your employees. Many companies still perform manual data entry, analysis in Excel, or use outdated operating procedures. Apps such as data connectors and enterprise apps can be a great benefit in improving business efficiency.
2. Discover new insights in your data
AppStore solutions also can generate new insights from your data that you never knew existed. Since these solutions are built by the BI vendor and other third-party experts, you can leverage their skills and expertise as you use their solutions. Insights can be generated as you explore the data, interact with the app, and discover insights that were previously hidden in spreadsheets or data source systems.
An example of discovering new insights could be a sales organization that is trying to better understand how different sales reps are performing. The sales team could leverage a quickstart dashboard from the AppStore to import all their data from Salesforce. Pre-built visualizations and key performance indicators (KPIs) will be automatically displayed on the dashboard, allowing sales leaders to draw useful insights that will promote action.
3. Digital transformation
The AppStore can also help your business accelerate its digital transformation. With the advent of remote work and distributed teams, digital tools are becoming more important than ever before. The AppStore holds many of these new tools that your business can begin to leverage. While not accomplished overnight, digital transformation can occur as your company tests out and uses new solutions on the AppStore
An example of an app promoting digital transformation is a digital intake form that can replace written paperwork. This could be in many different scenarios, including lead tracking, patient intake forms, or legal documents. The app can then instantly transfer that information to different business systems using a writeback connector.
What should I look for in an app?
The AppStore contains hundreds of solutions that can be tailored to your specific business needs. While it may be tempting to install dozens of apps right off the bat, it's important to determine the unique needs of your business. What are you looking for in an app? How can this app help solve specific problems in your business? When deciding on any solution on the AppStore, keep in mind the following advice:
1. Solve specific problems
When considering which solution you need from the AppStore, it's important to understand the 'why' behind what you are trying to accomplish. With so many apps available on the Appstore, it may require some research in order to determine what solution is best for you. In the end, choose an app that solves a specific pain point that you are currently experiencing in your business.
2. Ease of implementation
Appstore solutions should also be easy to implement in order to demonstrate value to the business. Many solutions on the AppStore only require a few clicks to get started, while others may require some back-end IT work. When deciding on an AppStore solution, be sure to understand the timeline that will be required to implement. Start by incorporating simple apps that can be created and implemented in less time.
3. Scalability and customization
You should also look for an AppStore solution that is scalable and customizable for your business. As you begin to see the power of a BI solution, you may notice that more and more employees within your organization will want to implement it themselves on their own team. The AppStore solution you select should allow you to onboard more users and continue to make adjustments to it to meet the unique needs of your organization.
Conclusion
As the AppStore becomes an increasingly popular destination for BI solutions, businesses of all sizes can take better advantage of their business data to streamline business processes and promote efficiency. Pre-built apps make it easy for customers to get up and running quickly, without having to build custom applications from scratch. So what are you waiting for? Start downloading AppStore solutions today.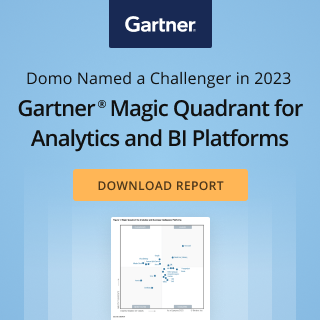 Check out some related resources:
Domo Named a Leader in Nucleus Research's 2023 Analytics Technology Value Matrix
Creating modern data experiences that help your customers succeed
Domo for Marketers: Tips and tools to seamlessly manage marketing data
Try Domo for yourself. Completely free.
Domo transforms the way these companies manage business.