/ 6 Inspiring Business Intelligence Dashboard Examples
Article
6 Inspiring Business Intelligence Dashboard Examples
Companies know the power of utilizing business data to develop strategies that improve performance and growth. About 82% of organizations with mature analytics systems saw positive year-over-year growth in the last three years. However, many business professionals lack the technical skills to analyze data independently; instead they have to rely on data engineers and analysts for critical information.
With business data's annual rate of growth, inefficiencies or delays in processing data or implementing data-driven strategies can easily happen—and they cost your organization in customer satisfaction or profits.
Business intelligence (BI) dashboards can make a significant difference in this situation. BI dashboards empower your entire organization with data-driven knowledge that individuals, management, and companies can implement to increase productivity, efficiency, and decision-making.
Business intelligence dashboard examples
BI dashboards are designed with the everyday user in mind, with no coding or tech skills required. The dashboard's self-service interface generates visualizations from raw data so you can understand information, spot trends, create reports, and draw critical insights.
Users can customize their dashboards based on datasets and their specific questions to become more effective in their work, no matter their employment level or department. Many dashboards feature drag-and-drop elements and customizations so users can create visualizations that meet their exact needs. Explore our business intelligence dashboard examples below to see how valuable this tool is and how you can maximize your dashboard use.
6 best business intelligence dashboard examples
Business intelligence dashboard users can create custom displays for just about any purpose, including customer data, business revenue, marketing statistics, supply chain movement, and more. Your BI dashboard can display metrics to monitor active strategies or help your company develop insights for future decision-making. We've included a range of interactive BI dashboard examples, including finance, supply chain, and sales, to illustrate the opportunities available.
Finance dashboard
Our finance dashboard allows the CFO and other top decision-makers to view and assess vital financial data and performance indicators. With links to financial reporting and analysis metrics, internal and external reports, and forecast models available, your financial team and executives can explore key data in detail.
In the dashboard's executive summary section, KPIs such as new bookings, upselling, and a billing summary are targeted. This example also shows these figures in quarterly year-over-year (YoY) comparison tables and charts to measure performance.
Lastly, you'll notice the interactive cash flow section. There, users can explore cash balance per quarter and make annotations if they have concerns over a large drop-off or see a positive trend and want to learn more.
Sales dashboard
This sales dashboard example features real-time key sales metrics that executives rely on to make everyday decisions. Along with current sales data, it also includes selling opportunities in the pipeline with same-day data and how much the company will need to close to meet its forecasted goals. All of these elements are explored in greater detail below, pointing out sales opportunities by type and forecasting by region and quarter so decision-makers can adjust their strategies accordingly.
The dashboard also allows senior management to check on sales performance by team, type, and individual sales representatives while tracking efficiency and gross sales amount.
Marketing campaign dashboard
Our marketing dashboard is suited for marketing teams and managers who want to analyze their campaign performance in more detail. Marketing professionals can quickly view their actual versus budgeted spending, what percentage of their campaigns went to each stage of the marketing funnel, their conversion rate, return on investment (ROI), and their campaign calendar.
Further down, the dashboard shares crucial data for each of the three marketing funnel stages in charts, word clouds, tables, and other graphics. Marketers can explore website visitors by location, month, and whether traffic originates from paid search, paid social, or organic means.
Supply chain dashboard
Stravello's international supply chain dashboard example lets users filter visualizations by part, model, date, and on-time rate. Logistics teams and executives can see which products are produced at each manufacturing site, the number of units produced each month, quality assurance pass rates, warehouse data by country, and more. The interactive dashboard allows for greater understanding and precise analysis of many moving parts.
FIFA World Cup dashboard
Dashboards aren't limited to typical business departments. This FIFA World Cup data dashboard allows users to explore data visually by competition year, round, team, and opponent. Or you can dive into the player stats section to quickly learn which teams and players earned goals, assists, red or yellow cards, saves, and fouls. If you still have questions, visit the data hub's "Ask Me Anything" section and type it into the search bar to receive your answer.
BLS Jobs Survey dashboard
We created a custom dashboard to explore if the Great Resignation was over using data from the Bureau of Labor Statistics (BLS) Job Openings and Labor Turnover Survey. In our dashboard, you'll find a chart plotting quits per month spanning from December 2001 through March 2023. Users can manipulate the data by industry, compare data from different years, make seasonal adjustments, and explore by region. This example shows how unpacking a metric can lead to new insights and understanding.
Best practices when creating BI dashboards
When creating or using a business intelligence dashboard, you'll want to follow best practices to optimize results. Consider the following:
Context of data: Understand the context and purpose of each dashboard. Is this BI dashboard for a marketing team needing the latest metrics from their active social media campaign or a finance team looking to explore their year-over-year billing and upselling metrics? A great dashboard has a clear audience and clear goals in mind. Putting the right information in front of your team is a critical first step. Users must also be able to interact with and manipulate data to fit their needs.
Data visualizations help with understanding: While creating visuals bursting with information and bright colors may be tempting, keeping your data visualizations simple and clutter-free is the preferred practice. Clean visualizations with key details are more effective at communicating your message than visually busy graphics with too much data to comprehend quickly. Take advantage of white space in your visualizations, use number counters, and use contrasting colors to display your targets and goals for easy identification.
Emphasize the most important KPIs: Your dashboard should include a summary of the metrics that impact your performance the most. Where you display these key performance indicators is crucial. You'll want to place your most significant KPIs at the top of your dashboard, then display the remaining data in descending order of importance in a Z-pattern that follows natural eye movement. Use larger sizing for your most important KPIs and smaller sizing for less significant data.
Understand your business data with Domo
Business intelligence dashboards are an advanced tool to increase your understanding of data through visualizations. With a user-friendly dashboard like one created in Domo, your entire organization can benefit from data-generated insights without a steep learning curve.
Domo's dashboarding tools let you customize your visualizations with drag-and-drop features, over 150 chart types, and 7,000 maps to meet your exact needs. Our chart types include period-over-period charts to compare time periods against one another and trellis charts that offer more than one dimension.
Users can filter and analyze data further using specific criteria or add additional values not currently displayed in a chart with Domo's unique elements. Your team can easily create data stories and generate insights to increase performance and drive decision-making.
Business intelligence dashboard examples FAQs
Have additional questions about our business intelligence dashboard examples or how to get started creating your own BI dashboard? We're here with the answers.
What are dashboards in business intelligence?
Dashboards are the visual interface where users explore and understand business intelligence data. They include business analytics, data mining, and data visualization within the toll so users can track, analyze, and create actionable insights and reports on KPIs and other metrics that measure performance. BI dashboards typically include graphs, charts, maps, and tables for users to share and collaborate with others.
What should be included in a business dashboard?
A business dashboard should include visual representations of metrics your organization uses to track performance and perform job duties. It should be able to organize data from multiple sources and present it in one location. A business dashboard should also have the ability to show your current standings, identify trends, and monitor business strategies.
What is an example BI dashboard?
This marketing dashboard from Domo is an excellent example of a BI dashboard. Users can quickly see the number of active marketing campaigns plus the conversion rate and return on investment (ROI) in both granular and big-picture detail.
How can a business intelligence dashboard help a business?
Business intelligence dashboards help users better understand complex data through visualizations. A dashboard can go into deeper detail or be customized with different datasets or metrics to gain specific insights for your organization. These interactive tools can be updated using real-time information, further aiding in business strategy and performance.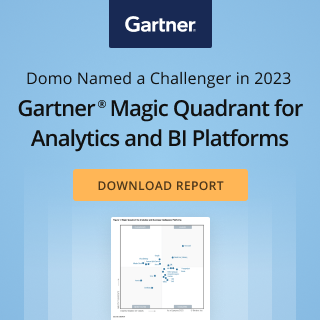 Check out some related resources:
Domo and Regional One Health Named 2023 Nucleus ROI Award Winners
Domo Ranked as an Overall Experience Leader in Dresner 2023 Small and Midsize Enterprise BI Market Study
AI-Powered Data Experiences: Product Keynote
Try Domo for yourself. Completely free.
Domo transforms the way these companies manage business.