"Domo is the single thing that helps us make proper decisions day to day." 
Tanner Lamb
Chief Financial Officer at Cozy Earth
Cozy Earth designs and sells bedding, towels, and clothing made from high-quality, authentic bamboo fabric.
Industry
Retail
Company Size
75 Employees
Challenge:
Siloed data made it difficult for this bedding company to accurately forecast product demand, optimize ad campaigns, or understand where to focus its product development. 
Solution:
Thanks to Domo, business users can easily access a shared source of sales, marketing, and logistics data. 
Impact:
Cozy Earth is now able to make critical decisions based on data instead of gut instinct, helping the company manage its 20x growth over the past three years.
Cozy Earth builds a luxury lifestyle empire with help from Domo.
Cozy Earth is on a mission to help people sleep at the perfect temperature. By using premium 100% viscose from bamboo fabric, the company's sheets, comforters, and pajamas are uniquely designed to help sleepers regulate their temperature throughout the night. Their products are so soft and comfortable that Cozy Earth has been featured on Oprah's Favorite Things list four years in a row.  
Thanks to both word-of-mouth from happy customers and the massive PR boost it receives from Oprah's endorsement, Cozy Earth has grown 20x over the past three years. To help leverage data in managing and optimizing its growth, Cozy Earth depends on Domo.

"Domo is the single thing that helps us make proper decisions day to day… We're very fortunate to have a tool we can look at every day to get the data we need to make decisions."
Dreaming of data. 
Because Cozy Earth's products are made from bamboo, all of its raw materials and final products are supplied from Asia. Harvesting, milling, sewing, finishing, and shipping must all take place as far as nine months in advance of when the final product is needed in stores, requiring Cozy Earth to be exact in its forecasting. Order too much and valuable cash may be tied up in products that won't sell, while ordering too little can leave sales on the table.  
"We have to be spot on about how we forecast inventory demand because it ties up so much cash for so long," Lamb said. "We use Domo to look at what colors and sizes are in demand, current shipping times, and seasonal demands, and use that info to forecast what we need to purchase to get the right inventory here in time for a launch or to replenish our supplies."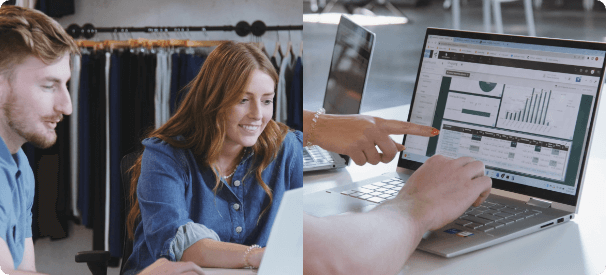 Before Domo, gathering data that could help inform the forecast was a complex, manual process. An analyst would have to go to each separate channel, download a report, copy and paste that data into a spreadsheet, and then spend hours working with the data before it was ready to be used by decision-makers.  
Thanks to Domo, Cozy Earth can now automatically collect, clean, and combine data from Shopify and third-party sales channels, marketing channels like Facebook and Google, and the supply chain platforms that power its warehouse and delivery systems. Data is available to every department to leverage, allowing all business users to access the data they need, whenever they need it, without having to wait days for a report.  
"With Domo, it's become very easy to collect and share data," said Trevor Fernstrom, FP&A Analyst at Cozy Earth.
Selling sheets smarter. 
In addition to helping the company be smart about how it orders products, Cozy Earth also uses Domo to make intelligent decisions about which social channels to prioritize and which products to feature in its digital marketing.  
"The best thing about Domo is that I can see everything in one place. It saves me so much time because I can see the performance of campaigns across Facebook, Pinterest, Instagram, Snapchat, and Tik Tok all next to each other, and see how each works together," said Katie Russell, Digital Marketing Coordinator at Cozy Earth.  
By analyzing campaign performance across each channel, Cozy Earth's marketing team has deeper insight into which products it should promote each day, helping it maximize its return on ad spend. By being able to easily see when specific products have a bump in sales, such as cool sheets during a heat wave, Russell is able to quickly optimize campaigns so that more money gets spent promoting sheets instead of pajama pants.  
Cozy Earth is also able to collect and share survey data from customers within Domo so that the marketing team can see not only what people are buying, but why, helping the team improve the ad content by featuring the value propositions that resonate most with customers.  
"This data helps us sell to customers better, get in touch with them better, and really learn from them so we can boost our customer lifetime value," Russell said.  
Data-driven product development.
While its founders developed Cozy Earth's first products as a way to help themselves sleep better, today the product development team at Cozy Earth uses Domo to ensure its products are based on data, not instinct.  
"The main thing that is always being asked before we come out with a product is about the data that is driving the decisions we are making," said Kelsi Hicken, Product Development & Design Specialist at Cozy Earth. "I look at all the sizes and colors that are selling well, and also what is not selling as well, to inform what we should develop more of." 
By tracking its products at the SKU level, Cozy Earth can now easily identify products that might be selling overall, but may have a specific size and color that doesn't perform as well. This insight helps ensure that the company only orders its less popular sizes and colors in limited quantities, particularly larger sizes that cost more to manufacture. 

"When we know how a product is going to perform at the size and color level, it helps us make educated decisions."
Check out more stories of digital transformation.
Ready to get started?
Try Domo now or watch a demo.