Business
Dashboards
All the data you care about, right at your fingertips.
Watch Demo
Where it all comes together.
To do your job well, you need the right information at the right time. Unfortunately, that information lives in an ever-increasing mess of disconnected spreadsheets, systems, databases and applications.
Domo solves that problem by bringing your business and its data together in one intuitive platform. With Domo, it's easy to see all the information you care about in one place and use it to make faster, better-informed decisions.

Why business leaders love Domo:
Build your dream dashboard
You want all your critical metrics in one place. You want them to be clear, meaningful and up to date. But you also want the flexibility to assemble, organize and visualize those metrics any way you'd like. With Domo, that freedom comes standard.
See the big picture
You've got a lot of important information in a lot of different places. With Domo, you can pull it all together to see the big picture. See how marketing impacts sales, how sales impacts operations, how operations impacts finance, and everything in between. It's all the insights you need, how and when you need them.
Automate your reporting
Let's face it: manual reporting is a drag. Domo saves you hours by automatically updating key metrics with data from any source. That means you can spend more time doing, and less time figuring out what's been already been done.
Take it with you on the go
Opportunities don't wait for you to get back to your computer, so Domo helps you seize them on the go. With a seamless experience on any mobile device, Domo can deliver the metrics you need, wherever you happen to be.
See your dashboard how you want it.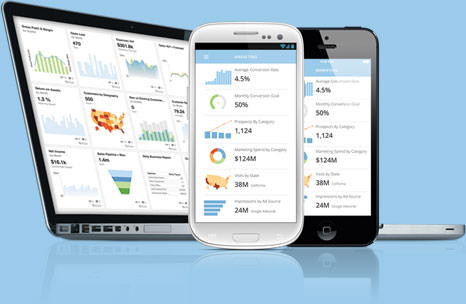 Fill out the form to get instant access to an exclusive video demo.
Fill out the form to get instant access to an exclusive video demo.
Domo helps companies of all sizes know now.