Domo for BI
Serve the business with unbelievable speed, agility, and scale.
Domo uniquely helps you turn dark data into actionable data and turn visualizations into business-wide applications.
GAME-CHANGING FAST
Deliver insights in minutes.
With Domo, you can deliver high-quality data insights in less time than ever before.
BI-critical processes that took weeks, months, or more can now be done on the fly, in minutes or seconds.
Connect to any data source: in the cloud, on-prem, or a hybrid between on-prem and cloud, public or private. Learn more
Domo connected to our legacy data system within four or five minutes. They can really walk the talk.
Chief Innovation Officer
When the metrics are telling us something is wrong or something is going well, we can identify and act on it very quickly. Our data is delivered to us in a very automated, easily consumable way.
Director of Business Intelligence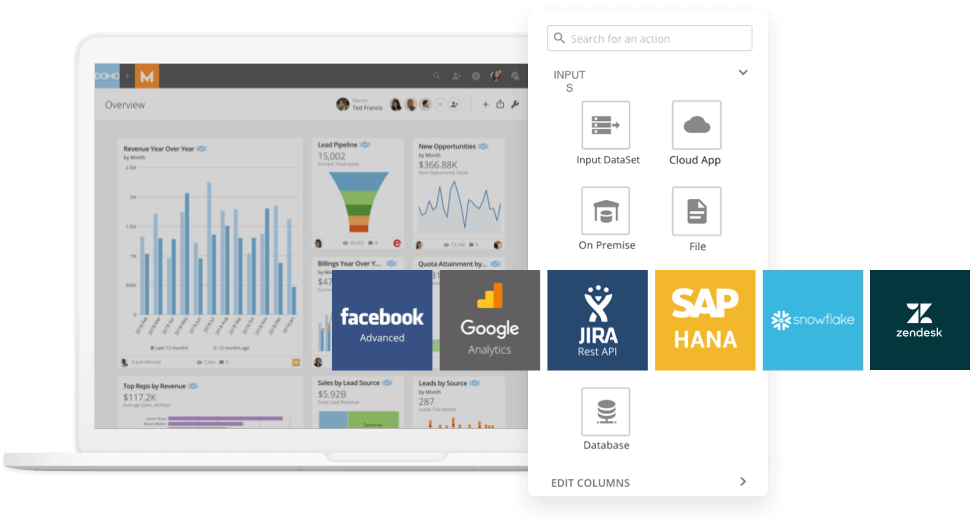 SUPERSTAR PRODUCTIVE
Get more from your BI team.
Wow customers with high-leverage BI that delivers career-making results in record time.
Get more team leverage and serve the business even with a lean BI team.
Spend less time wrangling data and managing reporting requests, and more time on value-added work, including data science.
Empower the business with self-service business intelligence dashboards that are orders of magnitude easier to use.
We built an executive dashboard that provides a central view into the entire organization and we use it as a meeting agenda for our weekly meetings to walk through business KPIs.
Nick Peterson | Director of Financial Planning
Domo shifted our reporting from a highly-siloed structure to one built upon interdepartmental collaboration and trust.
Nicholas Hughes | Associate Director, Revenue Analytics
DARK-DATA RICH
Provide new insights.
Data that was previously dark and inaccessible is made actionable and accessible to the business.
Domo's robust data pipeline and built-in ETL empowers BI teams to control their own infrastructure. Learn more
Get access to data while still maintaining engineering rigor and compliance.
Domo brings all the data into a single repository. It eliminates stovepipe reporting that happens with Excel and Tableau, because everybody is working from the same environment, using the same data and the same tool.
Chief Information Officer
Domo saves us from doubt. We don't have to question where the data is coming from and if it is accurate. We've taken the manual processes out of it, and now we can focus on results.
Sr. Director, Business Intelligence & Data Analytics
INFINITELY CLOUD-SCALABLE
Put big data to work.
Domo's cloud-native, 100% SaaS platform scales automatically with your data and users.
Because Domo was built for scale, you don't have to resort to viewing sample data sets.
Domo handles trillions of rows, millions of updates, all with sub-second query times.
Manage and govern thousands of users with a level of automation that's simply unmatched.
We ran out of scale, ran out of performance on the previous platforms.
VP of Digital Marketing
We migrated our data warehouse and rebuilt into a hybrid of using AWS and Domo's data warehousing capabilities. It now takes 15 minutes to reprocess every single record in the entire data warehouse – That is 1.4 billion rows of data.
Chief Information Officer
Get started.
Tools and resources to take action now.