News
View recent news announcements from Domo and media coverage from around the web.
Thursday, July 12, 2012
Fortune 500 CEOs Are Shunning Social Media Says New Study By Domo and CEO.com
70 percent of CEOs have no social media presence on Facebook, Twitter, LinkedIn, Pinterest or Google Plus
SILICON SLOPES, Utah – July 12, 2012 –
CEOs at Fortune 500 companies are participating in social media channels significantly less than the general public, according to a new study sponsored by
Domo
and
CEO.com
, an online resource that lets busy executives stay up-to-date on the latest news and best practices in business management.
The
2012 Fortune 500 Social CEO Index
, which was created to investigate the social media habits of leading CEOs, also found that while CEOs lagged far behind the general population in terms of overall social media participation, they are more active on one social network—LinkedIn—than the general public.
When it comes to specific social networks, LinkedIn was by far the most popular among Fortune 500 CEOs, with 26 percent on the network, compared to just 20.15 percent of the U.S. general public.
But on other major social networks, including Facebook, Twitter and Google Plus, the presence of Fortune 500 CEOs was minimal at best, with only 7.6 percent on Facebook, 4 percent on Twitter, and less than 1 percent on Google Plus. By contrast, more than 50 percent of the U.S. population uses Facebook and 34 percent uses Twitter.
"The results came as a surprise considering that social media sites like Facebook, Twitter and LinkedIn are part of the daily fabric of life," said Josh James, Domo founder and CEO. "We really expected to see more social engagement from CEOs, especially since the benefits of social media are no longer just wishful thinking. CEOs who use social media are growing their businesses, attracting lifelong customers, generating exposure for their companies and closing new deals. As consumers become more social savvy, so must company leaders. We expect to see CEOs getting more and more social in the near future."
Notable findings on Fortune 500 CEOs from the Study:
70 percent of CEOs have no presence on social networks.
Of the 38 Fortune 500 CEOs on Facebook, Michael Rapino of Live Nation Entertainment has the most friends, with 1,723.
Among the 20 Fortune 500 CEOs who have opened Twitter accounts, 5 have never tweeted. (Note: At the end of the survey, only 19 CEOs had Twitter accounts. Oracle's Larry Ellison joined Twitter after the survey was completed, boosting the number to 20.)
The average number of followers for Fortune 500 CEOs with Twitter accounts is 33,250.
Rupert Murdoch of News Corp, with 249,000 followers, is now the most-followed Fortune 500 CEO, surpassing HP's Meg Whitman who was in the number one spot when the survey was taken.
10 Fortune 500 CEOs have more than 500 LinkedIn connections, while 36 CEOs have 1 LinkedIn connection or none.
Six Fortune 500 CEOs contribute to blogs, and only one of the six CEOs, John Mackey of Whole Foods, maintains his own blog.
Zero Fortune 500 CEOs are on Pinterest.
About the Survey
From May 7 to May 21, 2012, CEO.com searched for every Fortune 500 CEO on each of the major social networks. Given the large number of phony accounts on social networks, CEO.com's criteria for verifying the legitimacy of these accounts included the following:
Accurate profile descriptions
Relevant and believable content and posts
Decent quality (or number) of followers
Accounts maintained on behalf of the CEO and not fans
About CEO.com
CEO.com
was launched by Omniture co-founder and longtime CEO Josh James, before he launched Domo, to help business executives stay up-to-date on the latest news and best C-level practices across top industries. CEO.com is now sponsored by Domo.
About Domo
Domo
is a cloud-based executive management platform that redefines the business intelligence (BI) market and transforms the way business is managed. Domo gives users direct, real-time access to all the business information they care about, all in one place.
With $63 million in funding, Domo is backed by an all-star list of angels and investors including Benchmark Capital, Andreessen Horowitz, IVP, Ron Conway and David Lee of SV Angel, Hummer Winblad, plus the who's who of SaaS and Internet technology.
Domo's founding team consists of some of the most sought after talent in the industry with experience that includes Amazon, American Express, Ancestry.com, eBay, Endeca, Facebook, Google, LinkedIn, MLB.com, Omniture, salesforce.com and SAP.
Companies wanting to sign up for a demo and see how Domo can help transform the way they manage their business can do so at
domo.com
.
# # #
Media Contact
Julie Kehoe, VP of Communications
Julie.kehoe@domo.com
914-374-8622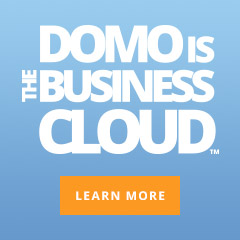 x
Domo requests your consent to send you email communications. Please customize your Domo experience:
By selecting "YES" and clicking "Submit", you agree that Domo, Inc. and its representatives may contact you at the email address provided. You may
unsubscribe
, or view our
Privacy Policy
, at any time.