News
View recent news announcements from Domo and media coverage from around the web.
Friday, February 10, 2017
Domopalooza 2017 to Feature Jason Derulo as Entertainment Headliner
Award-winning Singer, Songwriter and Dancer to Perform Live at After Hours
SILICON SLOPES, Utah – February 10, 2017 – Today Domo announced that best-selling, radio-dominating pop and urban artist Jason Derulo will perform at Domopalooza™ 2017. After launching his career as a songwriter for other artists, Jason Derulo flew to chart-topping success as a solo performer, having sold over 30 million singles, including eleven Platinum singles including "Want to Want Me," "Wiggle," "In My Head" and "Whatcha Say."
Jason Derulo is the first artist announced for the much-anticipated Domopalooza entertainment lineup, and he will perform during Domopalooza's After Hours. Domo also recently announced an all-star lineup of keynote speakers including Pixar co-founder and president Dr. Ed Catmull, World Series game-changer Theo Epstein and world-renowned statistician Nate Silver. Additional mainstage speakers and musical entertainment will be announced soon.
"Domopalooza 2017 will be filled with unparalleled education, training and networking opportunities for attendees," said Josh James, founder and CEO of Domo. "After a jam-packed day of career and business-focused learning, we're providing remarkable talent like Jason Derulo for attendees to unwind and rejuvenate. You will not want to miss this one-of-a-kind event."
Domopalooza, Domo's annual customer event, is designed to educate, inform and inspire Domo's fast-growing community of users from the world's most progressive organizations and most recognizable brands. In its third year, Domopalooza will be held March 21 – 24, 2017, at The Grand America Hotel in Salt Lake City.
From keynote presentations to more than 35 breakout sessions, hands-on personalized training and networking opportunities, attendees will gain valuable lessons from industry experts and fellow customers. They'll gain new insights on how to leverage Domo, and learn how all employees – from the CEO to front line workers – can use Domo to optimize business performance by connecting them to the right data and people they need to improve business results.
For registration and to stay up-to-date on the program, visit Domopalooza's event page.
About Domo
Domo helps all employees – from the CEO to the front line worker – optimize business performance by connecting them to the right data and people they need to improve business results. Domo's Business Cloud is the world first customizable platform that enables decision makers to identify and act on strategic opportunities in real time. The company is backed with more than $500 million from the world's best investors and is led by a management team with tenure at the world's most well-known technology companies. For more information, visit www.domo.com. You can also follow Domo on Twitter, Facebook, LinkedIn, Google+, Instagram and Pinterest.
###
Domo, The Business Cloud, and Domopalooza are trademarks of Domo, Inc.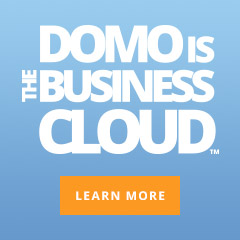 x
Domo requests your consent to send you email communications. Please customize your Domo experience:
By selecting "YES" and clicking "Submit", you agree that Domo, Inc. and its representatives may contact you at the email address provided. You may
unsubscribe
, or view our
Privacy Policy
, at any time.