Wednesday, February 22, 2017
Domo Expands Global Infrastructure With Amazon Web Services to Meet Growing Demands of Customers and Partners in the Asia Pacific Region, as Well as Global Customers With Worldwide Operations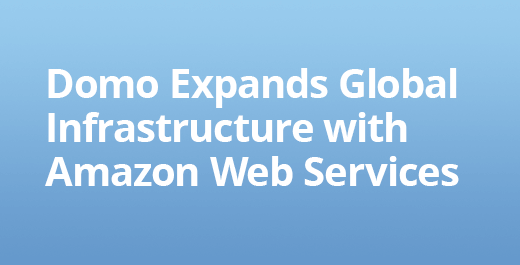 SILICON SLOPES, Utah – February 22, 2017 – Today Domo, provider of The Business Cloud – the world's first business optimization platform – announced it is now live with Amazon Web Services (AWS) in Australia, expanding its footprint to meet the growing demands of customers and partners in the Asia Pacific Region, as well as global customers with worldwide operations.
The AWS expansion into Australia supports Domo customers who require regional support and data governance. This move further strengthens Domo's commitment to its more than 1,000 worldwide enterprise customers that trust Domo to support and secure their most valuable data.
"Domo's AWS expansion in Australia gives us confidence that our data governance needs are supported, that our data is secure and that our cloud instance can scale as our business grows," said Dean Jones, CEO at Glam Corner, the highly successful Australian designer dress rental company, akin to Rent the Runway in the United States.
"Our Australian AWS infrastructure highlights our commitment to offer a scalable and secure cloud platform that will service customer growth globally," said Daren Thayne, chief technology officer at Domo. "We are confident that with AWS, we will continue to meet the enterprise security, compliance and privacy requirements of all Domo customers while maintaining the tremendous momentum in the region."
To learn more about the Domo Business Cloud, visit: https://www.domo.com/businesscloud.
About Domo
Domo helps all employees – from the CEO to the front line worker – optimize business performance by connecting them to the right data and people they need to improve business results. Domo's Business Cloud is the world's first customizable platform that enables decision makers to identify and act on strategic opportunities in real time. The company is backed with more than $500 million from the world's best investors and is led by a management team with tenure at the world's most well-known technology companies. For more information, visit www.domo.com. You can also follow Domo on Twitter, Facebook, LinkedIn, Google+, Instagram and Pinterest.
###
Domo and The Business Cloud are trademarks of Domo, Inc.