Monday, September 29, 2014
Domo Attends Shop.Org Summit to Help Retailers Get More Value from Data and Transform the Way Business is Managed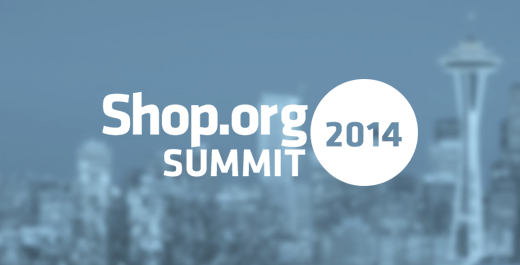 SILICON SLOPES, Utah – Sept 29, 2014 – Domo is at the Shop.org Summit this week to help retailers maximize value from their multiple sources of business data. Retailers interested in discovering how Domo can help enable better decision-making, improve conversions and increase revenue can visit Domo at booth 2015.
On Wed, October 1, Domo will lead a Big Ideas and a Roundtable speaking session with customers who will provide practical insights on how Domo is helping them bring together the right data and insights to transform the way business is managed. Attendees can also visit Domo's customer page for a few highlights of Domo at work in the retail industry.
Bigger than business intelligence and more than analytics, Domo serves the business user who has an overwhelming amount of data, but no easy way to get value from it. In addition to information from retail data systems, Domo can bring together data from marketing, manufacturing, operations, ecommerce and finance to provide customers with a more comprehensive and real-time view of their business than ever before possible.
Alongside retailers, Domo's growing roster of top-flight customers includes the world's most recognized brands across a wide range of industries including travel and entertainment, media and publishing, financial services, healthcare and technology.
The 2014 Shop.org Summit is a 2½ day event of the National Retail Federation specifically for digital and multichannel retailers. The conference is designed to provide its expected 5,200 attendees with new ideas, actionable takeaways and strong networking opportunities with the brightest and most innovative players in the digital retail world. Shop.org Summit is taking place from September 29 through October 1 at the Washington State Convention Center in Seattle.
About Domo
Domo is a cloud-based executive management platform that gives users direct, real-time access to all the business information they care about, in one place.
With $250 million in funding, Domo is backed by an all-star list of angels and investors including Benchmark, Fidelity Investments, Founders Fund, GGV Capital, Greylock Partners, IVP, salesforce.com, TPG Growth, T. Rowe Price, WPP and Zetta Venture Partners, plus CEOs of the world's largest SaaS and Internet businesses.
Domo's founding team consists of some of the most sought after talent in the industry with experience that includes Amazon, American Express, Ancestry.com, eBay, Endeca, Facebook, Google, LinkedIn, MLB.com, Omniture, salesforce.com and SAP.
For more information, visit www.domo.com. You can also follow Domo on Twitter, Facebook,LinkedIn and Google+.
# # #
Domo is a registered trademark of Domo, Inc.