/ Executive BI Trends You Can't Afford to Miss
Executive BI Trends You Can't Afford to Miss
In today's world, specialized systems exist to help you understand every aspect of your business. But the irony is that these disparate systems make it even harder to see your business as a whole. Business intelligence is supposed to fix that problem, but solutions have been failing for years.Join Forrester's Boris Evelson and Domo's Chris Wintermeyer to discuss solutions that fix old BI issues.
Upcoming BI trends include:
Increased investment in BI solutions by businesses
Increasingly powerful capacities to harness and analyze existing company data
Use of BI in data-driven decision making
Using BI to create more agile business operations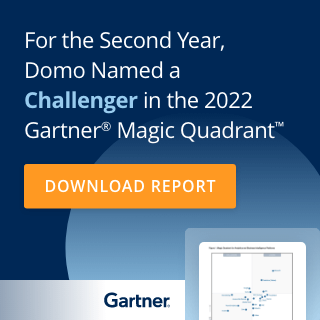 Check out some related resources:
For the Second Year, Domo Named a Challenger in the 2022 Gartner® Magic Quadrant™
Domo's Data Apps Can Deliver an ROI of 455%
Domo Product Guide
Try Domo for yourself. Completely free.
Domo transforms the way these companies manage business.