/ From Insight to Action: Empowering End Users with Self-Service BI
Webinar
From Insight to Action: Empowering End Users with Self-Service BI
How do business leaders help their employees go from casual data observers to business impact owners? What role does data play in boosting engagement, productivity, and performance?
In this webinar, you'll get fresh insights and actionable answers to these questions from one of the top thought leaders in business intelligence (having coined the term in 1989)—Howard Dresner, Founder and Chief Research Officer at Dresner Advisory Services.
Howard along with Ben Schein, Domo's SVP of Product, and Chris Wright, Domo's Director of Product Management, will share the key takeaways and most interesting discoveries from Dresner's "2023 Self-Service Business Intelligence Market Study." They'll cover the hottest trends in self-service BI and walk through the self-service features and benefits every business leader should know about—from user governance to generative AI.
Business leaders will come away feeling "in the know" about the modern self-service BI landscape. And they'll learn from Howard and Ben what it takes to better leverage information resources and scarce human experts to improve data-driven decision making in a governed, impactful way.
FEATURED SPEAKERS
Howard Dresner
Founder and Chief Research Officer, Dresner Advisory Services
Dresner
Howard Dresner is founder and Chief Research Officer at Dresner Advisory Services and is one of the foremost thought leaders in BI and performance management, having coined the term "Business Intelligence" in 1989
Prior to starting Dresner Advisory in 2007, he spent 13 years at Gartner, as lead analyst for Business Intelligence where he drove the definition and direction of the Business Intelligence research agenda, taking BI from an esoteric "backwater" to a mainstream and highly valued research area.
Howard was twice selected as "analyst of the year" and inducted as a Gartner "cultural icon". He was named Vice President in 1996, Distinguished Analyst in 2003 and Gartner Fellow in 2004. In addition to driving much of the research surrounding BI, he founded and chaired Gartner's European and North American Business Intelligence (now Data and Analytics) conferences.
After Gartner and prior to Dresner, Howard served as Chief Strategy Officer at Hyperion Solutions where he focused upon corporate strategy, product direction, and acquisitions. Externally, he drove thought leadership initiatives and served as a "voice" of Hyperion for customers, analysts and the market at large. As a result, he succeeded in making Hyperion the uncontested leader in performance management solutions. Early in 2007 Hyperion was acquired by Oracle.
Howard has written two books, The Performance Management Revolution – Business Results through Insight and Action, and Profiles in Performance – Business Intelligence Journeys and the Roadmap for Change – both published by John Wiley & Sons.
Ben Schein
SVP of Product
Domo
Ben Schein has over two decades of experience leading user adoption and implementing large-scale BI and analytics initiatives that deliver quantifiable business value. As an eight-year Domo user and content creator, Ben brings empathy, intellectual humility, and transparency to his role as SVP of Product, in which he oversees Domo's Product Management and UX teams, as well as guides overall product roadmap for Domo. Ben also leads Domo's Strategic Architecture Group (SAG), which advises on architectural patterns for complex implementations. He is a passionate advocate of sparking the fire of data curiosity and innovation for Domo customers across the globe.
Prior to Domo, Ben worked at Target Corporation where he led merchandising analytics and enterprise BI capabilities within the Enterprise Data Analytics and BI (EDABI) Center of Excellence.
Ben holds a bachelor's degree in Philosophy, Politics and Economics from the University of Pennsylvania and an MBA in Strategy and Finance from the Carlson School of Management at the University of Minnesota.
Chris Wright
Director, Product Management
Domo
Chris loves leading and driving BI and App product solutions to help customers do more with their data and answer business questions at a rapid speed. He's been at Domo for 8 years, working in the BI vertical and has over 12 years of product management experience. Chris's product management responsibilities at Domo include Dashboard, Cards, Analyzer, Dataset views, and many other features. He enjoys collaborating with customers on features and product ideas. He's super excited for the upcoming major milestones in BI and in Low-Code Apps that Domo is currently developing.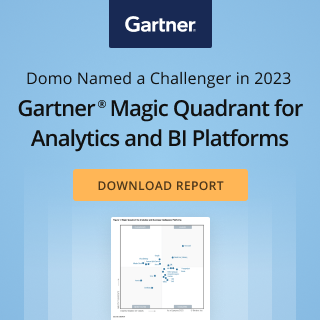 Check out some related resources:
2024 Planning: Budget Cuts? Reducing Spend? Consolidating Systems? Hard Decisions!
Domo Named a Leader in Nucleus Research's 2023 Embedded Analytics Technology Value Matrix
AI-Powered Data Experiences: Product Keynote
Try Domo for yourself. Completely free.
Domo transforms the way these companies manage business.