/ What makes Domo different
Report
What makes Domo different
Every employee at every company wishes they could get more done in less time. But since the beginning, complex BI platforms have been an additional strain on time and resources. Domo is different.
Experts and customers are choosing Domo for its ease-of-use and rapid time-to-value. To learn why, visit our booth at Gartner's Business Intelligence and Analytics Summit March 14-16, and check out the resource below.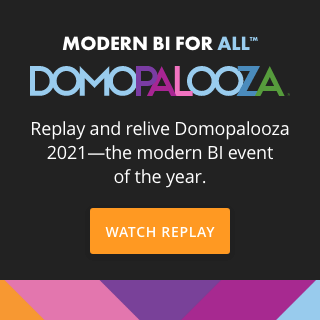 Check out some related resources:
On-Demand Product Demo
Why Domo is Dresner's Top Cloud Business Intelligence Pick
Domo Tops Dresner's List of Self-Service BI Vendors in 2021
Try Domo for yourself. Completely free.
Domo transforms the way these companies manage business.