/ Digital Companies Are Ecosystem Companies
Report
Digital Companies Are Ecosystem Companies
Wrapping up Mumford Sole's 5-part series on digital transformation
Digital transformation is happening at a rapidly increasing pace, and companies are working hard to evolve in order to remain competitive.
Recently, Mumford Sole Partners, a New York-based firm that specializes in digital transformation, investigated the interrelated barriers to enterprise transformation and detailed how a partnership-driven innovation strategy can start to "shake loose" seemingly intractable obstacles.
This whitepaper serves as a recap of the five papers that came from the study by summarizing:
Why any digital transformation effort that does not include an ecosystem-building effort is incomplete.
Why partnership is a key route to discovering new business opportunities.
How companies that understand the above have dramatically altered the list of top companies by market capitalization over the past decade
Download the whitepaper to learn the true definition of a digital company.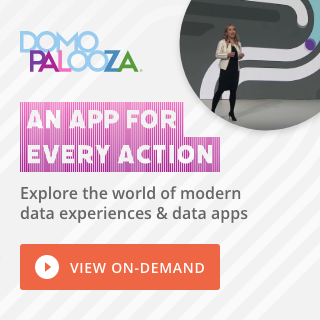 Check out some related resources:
For the Second Year, Domo Named a Challenger in the 2022 Gartner® Magic Quadrant™
Modern BI for All Field Guide: Operationalizing Modern BI Best Practices and Principles
Eckerson on Actionable Intelligence
Try Domo for yourself. Completely free.
Domo transforms the way these companies manage business.