/ Domo's Customer Satisfaction, At A Glance
Report
Domo's Customer Satisfaction, At A Glance
Domo is the cloud-based data platform that provides you with a richer relationship between people, data, and systems to complete your data strategy and create, for the first time, a truly digitally-connected, mobile-based business.
With all of your systems linked, all of your data merged, and everything connected to all of your people, you achieve tremendous speed to value.
Indeed, Domo:
Maximizes existing investments
Rapid deployment through app solutions
Start up in days, not months
Built for thousands of users
Scales up to billions of rows of data
Seamless integration to any data source
Governed and certified content delivery
Best in class multi-layer security
But don't take our word for it. Check out what customer-satisfaction research by the industry's top analysts shows.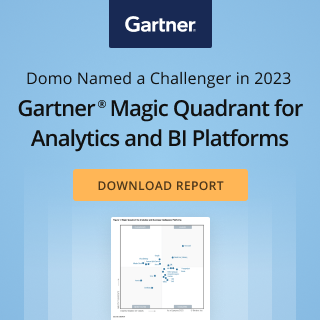 Check out some related resources:
POV: Next-Generation Banking
Domo Recognized as an Overall Leader in the 2023 Dresner Wisdom of Crowds® Business Intelligence Market Study
Data Never Sleeps 10.0
Try Domo for yourself. Completely free.
Domo transforms the way these companies manage business.