/ Turning Big Data into Big Revenues
Report
Turning Big Data into Big Revenues
Brought to you by: Bloomberg Businessweek
According to McKinsey & Co., 65% of executives say big data and analytics is a priority for their organizations, and companies that made smart use of their big data also had higher revenues. How do they do it?
Here are some of the findings:
Have an open attitude toward change

Look for customer insights
Do not focus on how much data you accumulate but on how you slice and dice that data
Mix "art" with science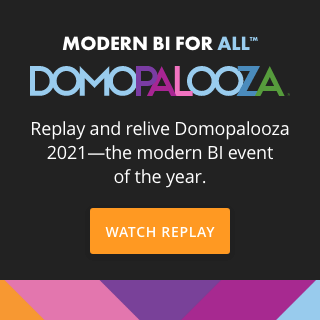 Check out some related resources:
Domo Named a Challenger in Gartner 2021 Magic Quadrant
Eliminating Manufacturing Bottlenecks & Optimizing Operations
Panel Discussion: Sharing Data Beyond the Walls of Your Organization
Try Domo for yourself. Completely free.
Domo transforms the way these companies manage business.