/ 7 Steps to Making Big Data Accessible to Executives
Report
7 Steps to Making Big Data Accessible to Executives
This report identifies a BI environment and its attendant best practices that can 1) greatly simplify executives' access to big data, and 2) enhance their consumption of insights and metrics that come out of big data and similar data sets.
These seven steps are simple:
Don't be a deer in the headlights
Treat big data as the egg, not the omelet
Practice data democracy
Dress your data to the nines
Let the kids play
Make hooking up easy
Get your head in the clouds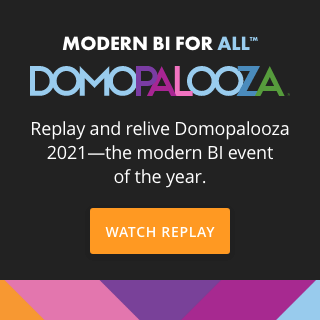 Check out some related resources:
Get to Know Domo for Finance
Get Leverage | Webinar: How Texas Tech Credit Union Activated Its Data to Boost Member Engagement
Domo for Life Sciences
Try Domo for yourself. Completely free.
Domo transforms the way these companies manage business.