/ The Future of BI
Infographic
The Future of BI
BI is no longer the domain of techies and data analysts. Many other departments other than IT are seeing the value of having better access to the information they need. This is a growing trend as organizations realize the tremendous value in accurate, easily digestible information.
The numbers speak for themselves:
40% of BI programs are controlled by departments other than IT 

91% of non-IT business users are expected to adopt a dashboard
48% of non-IT business users are expected to incorporate mobile BI integration
68% of non-IT business users are expected in incorporate data visualization integration
Click on the image below to view the full infographic: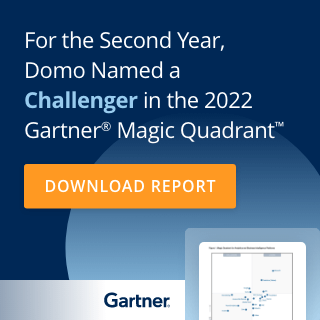 Check out some related resources:
Modern BI for All Field Guide: Operationalizing Modern BI Best Practices and Principles
For the Second Year, Domo Named a Challenger in the 2022 Gartner® Magic Quadrant™
By the Numbers: The Total Economic Impact™ of Domo Data Apps
Try Domo for yourself. Completely free.
Domo transforms the way these companies manage business.