/ Top 10 resources on safely returning to work
Article
Top 10 resources on safely returning to work
In an effort to help you plan the best ways to bring your employees safely back to work, we've compiled a list of 10 invaluable resources that provide the latest guidance and thinking about employee safety, the evolution of the workplace, and new strategies that businesses may need to consider.
A comprehensive guide from the Harvard Business Review. Normally a subscription website, it has made this article and all other coronavirus coverage free to read and share.
Official guidance from the Centre for Disease Control and Prevention. There are resources around planning your return, cleanliness, prevention and support for employees so it's an essential destination for businesses of all sizes.
The Occupational Safety and Health Administration has lots of important advice for businesses returning to work, but its PDF report "Guidance on Preparing Workplaces for COVID-19" in particular is worth reviewing to get advice on what needs to be done to the workplace for employee safety.
One of the resources provided by the CDC, this flowchart-style guide is a simple reference to support decisions about when you are ready to return employees to the workplace.
Specific advice for the C-suite and board to consider as their employees adjust to the new ways of working.
If you've got the essentials already in place, this resource from McKinsey is a great next step to change the way you think about returning to work after the initial wave of disruption.
Information tailored for HR business leaders, with sections including "When to return?", "Who returns first?" and "What's required in the new workplace?"
A clear, step-by-step model that organizations can follow during each phase of their coronavirus response.
Consulting firm Forrester proposes this universal framework for getting employees back into workplaces and suggests the steps that businesses will need to follow.
Advice on workplace safety from FisherPhilips, a specialist employment law firm, including general return-to-work principles and workplace safety.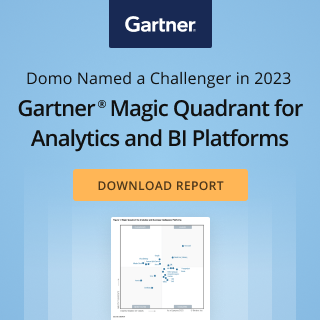 Check out some related resources:
'Future of Work' E-book: How to Safely Reopen the Workplace
How COVID Changes Elements that Shape the Way We Work
Privacy Considerations for Safely Getting Back to Work
Try Domo for yourself. Completely free.
Domo transforms the way these companies manage business.