/ How robots and smart devices are fighting the pandemic
Article
How robots and smart devices are fighting the pandemic
Robots are all around us, making significant contributions to making our lives easier and more efficient. Now, robotics and Internet of Things (IoT) technologies are being applied to help organizations battle the COVID-19 pandemic.
On the front lines in hospitals, robots are being developed to pick up items, open drawers, move objects and even open and close doors remotely while disinfecting rooms, and IoT sensors are automating the check-in/check-out process for construction employees, eliminating the need for workers to line up in close proximity to one another. These sensors are also tracking workers on a job site, enabling real-time notification of workplace accidents, and allowing workers to report emergencies via push-button technology. Technology is, quite literally, shaping the new working world.
IoT smart connected devices will generate more than 79.4 zettabytes of data by 2025, according to IDC estimates. The pandemic has given these future-forward devices the ultimate time to shine, and they've shown great promise in the fight against COVID-19. For example, germ-zapping robots that use UV light have been implemented across hospitals to automate cleaning procedures. These robots are equipped with IoT capability to allow for predictive and proactive maintenance in order to keep them working around the clock, and are increasingly being implemented in other establishments such as shopping malls, movie theaters, train stations, schools and grocery stores.
The pandemic has led companies to look for ways that technology can not only redefine the way long-held processes are handled, but to reinvent the workplace status quo from the ground up. According to the MIT Technology Review, "Companies are spacing out desks, plucking out conference room chairs, installing antimicrobial surfaces, adding thermal scanners, altering air-conditioning systems, putting down floor markings, and mandating rigorous cleaning protocols. And some are going further still: offering or even requiring coronavirus testing for workers returning to the office."
Even the most forward-thinking workplaces leveraging robotic tools, smart devices and automation to ensure employee safety are only doing half the job if they do not deploy a "Command Center" sitting on top of these technologies, turning these devices into a new source of business intelligence. Our data-driven tools not only collect and combine all of your data, they bridge the gap from strategy to execution, empowering decision-making based on empirical facts, not conjecture. And in times of crisis, smart decision making is more critical than ever.
That being said, let's take a look at the priority areas that should be part of your "IoT Get Back to Work Command Center" and examine how advancements in technology are easing implementation for business leaders:
Empowering employee health & safety
Powered by IoT, Domo's Contact Tracing App prevents the spread of COVID-19 with technology to monitor your employees' contact with others and any potential exposures, proactively notifying people of exposures that might affect them. Similarly, our Temperature Scanning App tracks employee health with data-enabled, quick-scan thermometers installed at each entrance to your building and sending employers real-time information on any high temperatures that should be addressed.
Startup Estimote has developed wearable devices that vibrate when workers get too close to one another, taking note of the interaction in case either of those employees ends up testing positive. If a worker is infected, other employees that person came into close contact with are notified and may be asked to quarantine.
Preliminary studies have shown that data from wearable devices such as Oura smart rings can prove effective early warning systems for the tracking of the virus.
Digitizing cleanliness & hygiene
Building safety
Creating a 'safe perimeter' around your workplace will be essential, especially in shared office spaces. Domo's Front Reception App tracks building traffic for an instant view of who is entering and exiting the building on any given day.
Consider air quality, especially at a time when many buildings have been closed for months. According to TechRepublic, relatively inexpensive IoT sensors that are evenly distributed throughout office buildings can monitor and report the air quality in the local areas they are deployed in. A cloud-based AI system can then assess the data it receives from sensors and determines a building's air quality.
Going contactless
According to the BBC, the "contactless office" may just be the office of the future. By using mobile-first, IoT technology, employers can eliminate the need to press communal buttons by using their smartphone to send a command to the elevator or shared coffee machine. Conference rooms could be fitted with voice-activated technologies to control lighting, audio and visual equipment. Passing through doors or flushing the toilet would require a simple wave, while self-service in office kitchens could become a relic of the past, to be replaced with automation or a dedicated server.
Monitoring productivity in the hybrid workforces
Beyond the physical safety of your employees and the office location, the new hybrid/virtual workforce requires a completely novel approach to managing the productivity of employees — both those that remain at home, and those that return to the office. Consider investing in productivity tracking technology, which uses automation and data visualization to ensure that both office and remote workers are staying motivated and on task.Productivity trackers can also automate check-ins for managers with employees to help guarantee that remote employees are up to date on their workplace's get-back-to-work plan should they decide to return on-premise in the future.
Training & compliance
Lastly, remember that your investments in emerging tech to fight the spread of COVID-19 and ensure a safe working environment for your employees are only as effective as your people. Don't forego the investment in lower tech areas like training and compliance for your workforce to get up to speed on the usage of new IoT devices they may be required to wear or use, and similarly, to get them used to any new robotic-powered device in the office. Domo's Training and Compliance App gets employees certified on new procedures to ensure that they are ready to come back to the office before doors even open.
Get help managing your own IoT deployments
When we were building our IoT Cloud solutions, the most common business case was around digital transformation. But like other existing technologies that are being applied towards pandemic use cases, we're proud to take an active role in helping our clients future-proof their workplaces. Our IoT Cloud offers business leaders a single source of truth for all of their connected devices being deployed as part of their get back to work plan, like the sensors, dongles and other touchless tech they may be rolling out to ensure employees maintain sufficient distance from one another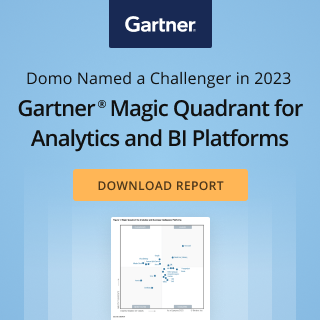 Check out some related resources:
'Future of Work' E-book: How to Safely Reopen the Workplace
Enterprise contact tracing: crawl, walk and then run
Privacy Considerations for Safely Getting Back to Work
Try Domo for yourself. Completely free.
Domo transforms the way these companies manage business.