/ CFOs begin to focus on operational issues post-lockdown
Article
CFOs begin to focus on operational issues post-lockdown
The unexpected nature of the COVID-19 pandemic means that few businesses were prepared to absorb the financial and structural impact. The US economy has shrunk at the fastest rate since 2008, while the economy lost 20.5m jobs in April alone.
When Gartner Group asked CFOs to identify their biggest business challenge in April 2020, almost a quarter said it was cash, while a further 26% said revenue loss. Just weeks later, there are signs that finance leaders are already looking to the future and what comes next.
Gartner repeated its survey at the end of May 2020 but this time found that while 23% of CFOs still saw revenues as the major issue they faced, only 4% now identified cash as an urgent issue. Meanwhile, the number of CFOs identifying "other issues" (including supply chain, logistics and business continuity) as the most pressing more than doubled to 23%.
Companies are now starting to think about what their business looks like in a new normal. Although the emergency phase of the pandemic may be coming to an end, the recovery and maintenance phase still lies ahead. We'll take a look at what phases might bring.
The next phase of challenges
While some areas of the national economy are booming and seeing skills shortages, others are facing the risk of massive job losses. While McKinsey reports that the US has seen 3 million new jobs in groceries, pharmacies and delivery services, up to 57 million jobs are vulnerable to being lost due to social distancing. This issue is particularly prevalent among lower-paid workers in accommodation, food services, retail and health/social care.
Additionally, these issues will not just be physical. In many cases, there will be a huge need for employee training and education as people return to a very different workplace than the one they left.

"While 14% of CFOs said they had already cut budgets in marketing and real estate, in the longer-term they expect to increase expenditure in areas such as sales and IT."
Any budget changes will need to take account of regulatory uncertainty and the impact of massive global government stimulus packages. New regulations favouring local economies are increasingly likely, which may lead to new complexities in supply chain, pricing and consumer behavior.
Changes to budgets and priorities will differ by industry sector. In the healthcare sector, employers are looking at how to keep employees physically safe, and how to configure healthcare settings to ensure physical distancing. Some 72% of CFOs in this sector are looking to reconfigure physical spaces to improve safety, while 21% were considering targeted benefits, and 13% considering hazard pay for some employees.
Areas of opportunity
The focus towards medium-term operational issues mean that there is an opportunity to put in more robust processes and workflows to manage key areas. Companies that take proactive steps in this area will be win-win, either by maintaining their presence or perhaps leapfrogging competitors who are less forward-thinking.
In the supply chain, the levels of risk will increase as each supplier and company takes their own measures to adapt to change. CFOs should be looking for more detailed information in close to real-time about their partners to ensure that third-party issues aren't going to affect their own customer timelines. CFOs should work with their operational counterparts to ensure that they have more detailed information flowing from both direct suppliers and also their partners to ensure disruptions are clearly identified well in advance and contingency plans can be enacted. Read more about potential steps in the HBR article Prepare Your Supply Chain for Coronavirus.
It's also an important time to review the distribution of goods and services, as getting "back to normal" with previous suppliers might not be enough. Logistics firms have encountered major disruption, as demand fell in the early stages of the pandemic. As manufacturing globally begins to find a way back to work, there are still potential risks ahead in the distribution of goods. A recent report from the Financial Times suggests that the glut of capacity within shipping and logistics companies could have a material impact on operators' viability if prices fall below a viable operating level. Now is a good time to review the health of partners in this area and ensure there are multiple routes to market where necessary.

"Looking at such changes is critical, but it is vital we recognize that this is not a 'once and done' situation."
Over the months ahead, organizations will likely need to adapt and change working patterns in response to changes in the Covid-19 testing programs, as well as potential treatments.
The CFO has a critical role in understanding how the new operational challenges will impact a specific organization. From there, we can evaluate tools and processes that will mitigate risk, drive efficiency and support long-term strategy.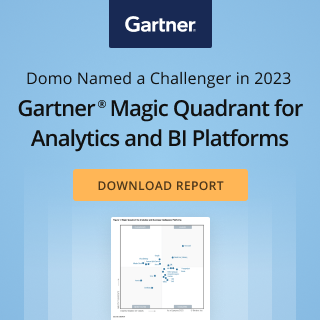 Check out some related resources:
'Future of Work' E-book: How to Safely Reopen the Workplace
'Future of Work' E-book: How to Safely Reopen the Workplace
How COVID Changes Elements that Shape the Way We Work
Try Domo for yourself. Completely free.
Domo transforms the way these companies manage business.