/ 4 questions every business leader should ask themselves now
Article
4 questions every business leader should ask themselves now
The job of getting back to work is a complex one. In order to stay ahead of the curve, drive competitive advantage, and demonstrate leadership, business leaders must ask a series of questions aimed at both their trusted advisors and business systems alike.
1. How do you know when your business is ready to reopen?
More so than ever before, organizations are having to cope with forces pulling in different directions. To help make the transition for employees to go back to work across all departments and regions more seamless, consider the following checklist of priorities:
Supply chain optimization – what have we learned from the pandemic and how did it impact this process?
Multi-site workforce availability – does each site have its own specific rules?
Consumer demand – what are the most valuable products that can help businesses get back to work?
Local and international community safety guidelines – what is the macro data informing decisions across multiple locations?
New workplace layouts and daily health/safety processes – are they all understood, and have they been planned for (in the short and medium terms, while maintaining a long-term view)?

Organizations must define protocols that all employees adhere to. Protocols create and reinforce positive routines that mitigate risk and address "daily procedures" such as in-office working habits, socialization, travel planning, and health and wellness check-ins with supervisors.

"Ultimately, business leaders must be willing to lose sight of the shore to discover new lands—a motto that is very relevant during these times."
2. How can you stay open and stay safe?
Safety is the new currency for the standout brands of tomorrow. Staying open and staying safe will require meticulous planning, forecasting, and organizational design. Business leaders need data at their fingertips, and the willingness and ability to reimagine the workplace now for factors on the horizon.
Make a plan and then review other publicly available data. See what state, city and other national resource recommendations can be integrated into your strategy. For us at Domo, for example, we see guidelines set by the National Safety Council aligning with some of our priorities.
3. What needs to happen in your business if an incident occurs?
Organizations must have a plan in place that addresses both the reactive and proactive nature of how this virus/pandemic has impacted us to this point. Even the most well-thought-out plans need to be able to account for the likelihood of an infected person walking through your doors at some point. They may not have COVID-19, but they may have the flu or something else that is transmittable to the workforce.
Proactive sanitization has to be reimagined. I'm not talking about how often you sanitize, but how you eliminate products/items in the office that can be carriers of viruses such as touch-screen doorways, conference-room iPads, and shipping and receiving tools that are used throughout the day.
All this can be powered by the data we have at our disposal. Data analysis can help establish these new operational procedures so we know exactly who has interacted with physical products. Guests can have a digital record of whom they met with, which conference rooms they used, and which employees may be experiencing fever-like symptoms. These tools not only help us stay proactive, they give us the ability to respond in a turn-key, proactive fashion when needed.


"Not every business operates the same, but every business should address the safety priorities with the same urgency."
Whether you foresee a package passed from person to person in the supply chain to be your risk factor, or a guest in a meeting room that has arrived from public transport, what is key for future resilience in organizations is capturing data from all these touchpoints and being quick to understand where and when an incident occurs so that you can take decisive action.
Once you are confident that your team is capturing and acting on critical data, you need to implement a mixture of continuity planning and organizational contact tracing in order to keep your business running smoothly. Individuals' health must be considered paramount, so the ability to ring fence certain workers and reorganize those around them will be essential to maintaining business continuity.
4. How can you instill trust in your future workforce?

"If companies hire great people, align on strategy, and help remove roadblocks, anything is achievable in work. It's a stance that is as important to adopt now as it has ever been."

If you have the right building blocks in place in your team, and you have the ability to access data that can give you the wider view of your global operations, then ensuring the health and safety of your future workforce can be actualized in a straightforward and compelling way.
Now, more than ever before, we must think clearly and act decisively—and data will be the enabler for the next normal, so we can all get safely back to work.
In summary
Gather data from all sources you use that could potentially impact employee and customer safety, communicate that data with those planning your reopening and ongoing management processes, and think about organizational implementation throughout.
This is not a stand-alone solution. There are dozens of tools and applications that can help you get back to work sooner than your competitor(s)—and do so safely for the wellbeing of your employees.
It's not just about asking the right questions; it's about having universal consensus with the answers.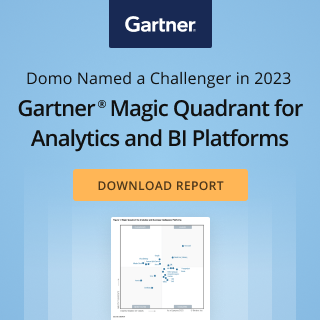 Check out some related resources:
'Future of Work' E-book: How to Safely Reopen the Workplace
Learning from others' experience: AB InBev
'Future of Work' E-book: How to Safely Reopen the Workplace
Try Domo for yourself. Completely free.
Domo transforms the way these companies manage business.