/ 10 musts for the CIO in a post-COVID economy
Article
10 musts for the CIO in a post-COVID economy
IT leaders have spent recent weeks doing their own kind of firefighting: using technology to support remote workforces and repair disrupted supply chains.
While addressing the immediate crisis, CIOs must also consider how IT spending and strategy will adapt. Some 22% of IT leaders recently surveyed by McKinsey & Co. report that there is increased pressure on IT spending due to COVID-19, suggesting now is the time to limit spending and consider new investments carefully.
In the months and years ahead, technology will be critical in capturing future growth and building resilience. From securing the supply chain to enabling new, digital-first business models, here are 10 things the CIO must address in a post-COVID economy.
1. Prioritize the safety of your people
Any organization's first priority must be providing a safe environment for its workforce. By collaborating with HR and facilities management, the IT department can help to create a virtual "map" of workspaces and the traffic within them. This data can be used to help implement zoned or staggered workspaces, or to track employees for contact-tracing, if required.
2. Prepare for remote working at scale
It is likely that the post-pandemic workplace will look different from what we knew just a few months ago. IDC reports that 62% of U.S. workers worked from a centralized office before the crisis hit, but many large organizations are already looking at making remote working a permanent fixture for at least part of the workforce. CIOs must ensure that processes are in place to safeguard the productivity and security of remote workers, including those using their own devices.
3. Accelerate digital platform development
The pandemic has prompted a huge shift towards online and virtual business. Some of this may recede after the crisis has passed, but inevitably some of our new behaviors will stick. CIOs that are prepared for more digital-centric business models will be better positioned to capture future growth.
4. Develop digital business models
Offering new or existing products and services digitally will help organizations drive new revenue and become more resilient. This can take the form of moving to new, digital channels, enabling new business models or developing new digital products. Retailers could support a new product line with live streamed classes. Manufacturers could switch production to new products based on shortages in the market, or offer automated fault-finding using IoT and telematics. The CIO has a vital role in understanding which models, services and products can be delivered, and how.
5. Investigate new technologies for digital businesses
As organizations move towards digital channels, consider the potential for chatbots, AR/VR and livestreaming in customer and partner communications. These technologies can be used to engage customers alongside internal collaboration tools.
6. Prioritize data analytics
While the initial COVID-19 emergency will pass, experts expect the virus to return. Organizations need better, data-driven insights into their key business data, and this may mean realigning and reprioritizing data analytics projects.
7. Build customer journey maps
In the months and years to come, organizations will need to adapt their business models to a digital-centric environment. Now is the time to map customer journeys and use that data to see what parts of the customer-support process might warrant digital tools to improve customer support or offer new business opportunities. What functions could be shifted from manual to online?
8. Prioritize customer engagement
As customers move online to an even greater degree, CIOs should be evaluating technologies such as kiosks, mobile, social and IVR that can offer engagement in digital environments. These tools may also allow some processes to be transformed to digital and self-service delivery.
9. Increase data and analytics maturity
In a recent Gartner survey, 38% of "fit organizations" said that data analytics was a game-changing technology. However, many organizations lack the skills needed to understand the vast amount of data being generated around COVID. Now is the time for CIOs to invest in data skills to respond to changing business practices.
10. Encourage employees to participate in open data initiatives
By encouraging workers to join open data projects, CIOs can build data literacy and skills that can be applied to in-house projects. Check Kaggle Competitions to find projects from the world's largest data science community.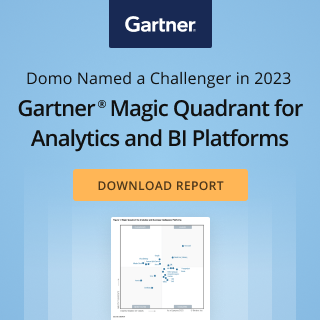 Check out some related resources:
'Future of Work' E-book: How to Safely Reopen the Workplace
Enterprise contact tracing: crawl, walk and then run
Get Back to Work: 9 Success Factors in Returning to a Physical Facility
Try Domo for yourself. Completely free.
Domo transforms the way these companies manage business.