/ Best practices for designing public dashboards
Article
Best practices for designing public dashboards
Dashboard design displays data-based organizational information in an understandable format. In a well-designed dashboard, the various elements smoothly integrate to produce visualizations.
Visualizations offer end viewers valuable knowledge for practical performance and decision-making. They enable them to dive deeper to access detailed information that is necessary for business success.
A public dashboard should be easy to use and should effectively visualize data so that it can be quickly understood by users. From there, they can be used to extract useful insights, spot emerging trends, and locate chances for development.
To effectively create a public dashboard, it is essential to consider the most pertinent data, consider usability, and follow the main objectives of the company. Your company's dashboard should be simple to use and serve as a fundamental tool for decision-making.
Public dashboard best practices
Dashboard design best practices assist users on their path to creating the most complete dashboard for their particular company requirements. Best practices for dashboard design generally include:
Identify your objectives
The first step is to identify the business questions you want your dashboard to answer. From there, you need to figure out what metrics and statistics will give you the most effective answers.
It's much simpler to choose the appropriate KPIs after you have a clear understanding of the main objective of your reporting.
Think about your audience
Your end users should be one of the biggest significant considerations when using industry standards for dashboard design. To make the analysis process easier for the dashboard's users, you must understand who will be utilizing it and for which purposes.
The setting and platform from which individuals frequently view their visualizations will directly affect the way the content is displayed. Furthermore, consumers will take longer to analyze data if the charts appear overly complicated than they otherwise would without that kind of dashboard.
Focus on simplicity
Simplicity is one of the top dashboard design principles. The method used to create a dashboard should always be carefully considered. The final product should be a straightforward data presentation with the key elements prominently shown and quickly understandable.
Often, an overly flashy, complex dashboard can distract from the dashboard's business purpose, even if the dashboard effectively communicates its information. Users will be more interested in the aesthetics of the dashboard than its business implications.
Give clear information
The users of a dashboard cannot interpret figures without comparative values. Furthermore, they won't be aware of the necessity of taking any action. Always strive to convey as much information as possible. Even if part of it seems apparent to you, your viewers may find it confusing.
All elements and units of measure should have names, and all graphs should have designations. Don't forget to give comparative values. Choose the most prevalent correlations as a basic guideline here. You must always take into account this useful dashboard design advice.
Select pertinent KPIs
The correct critical success factors for your company's needs must be chosen to create a successful dashboard. The best KPIs to include in your dashboard will be easy to choose once your ultimate goals have been established and your intended audience has been taken into account.
Do not put everything on the same page
Never design a dashboard that satisfies all needs, and avoid putting too much data on one page. Consider your audience as a collection of unique people, each with its own set of requirements. A supplier won't require the same information as a manager. Use tabs to divide the data into sections according to themes or subjects if you want to put all of the information into one dashboard.
This will make it simpler for users to locate relevant data. The requirement for filtering, menus, pickers, and complex drill-downs is reduced when each function is given a customized dashboard, and it is significantly simpler to locate an important piece of data right away.
Choose the appropriate dashboard type
Another standard protocol to take into account is being conscious of the kind of dashboard you want to develop depending on its analytical function. The content must be usable by the user who will be using it to further his own business goals and plans. To increase users' productivity, make sure you can recognize the important information and distinguish it from the non-essential information.
Use the appropriate chart type
A missing or wrong chart type might undo all of your hard work. Understanding the kind of knowledge you want to share will help you select a visualization tool that is appropriate for the purpose. Before selecting the desired chart format, it's critical to comprehend the metric's goal.
Pick your layout wisely
Nobody enjoys searching for data in a maze of graphs and statistics, and poor layout makes people think harder before understanding the purpose. The usual rule is that the most relevant factor must always appear upfront, in the top left corner of the screen. Beginning with the big picture is yet another helpful dashboard layout approach.
A quick inspection should reveal the main pattern. After illuminating the initial overview, you may move on to more in-depth charts. Users can view the dashboard without having to switch mental processes in this way.
Continue to develop
Asking for input is crucial when creating reports using a display designer. The structure, capability, appearance, experience, and composition of KPIs can all be improved to ensure maximum value. By regularly soliciting feedback from your group and by addressing the correct questions, you can make sure you and the team are all on the same track by routinely asking for their input.
Prepare for a variety of devices
Another crucial step in the building of the dashboard is optimizing it for smartphones or computers. You may respond to crucial business concerns on the move without calling a special staff meeting by providing wireless access to the most valuable insights. Benefits like rapid access and quick decision-making ensure that everyone can quickly review the facts and information.
Digital technology is constantly changing. Since growth is dynamic, you must be prepared to continually enhance and broaden your initiatives if you want to build successful dashboards.
Only immediately applicable knowledge is worthwhile. Based on this idea, the end user must be able to use the data provided by dashboards to advance their objectives, job functions, and business-related tasks.
Your business's success, improvement, and adaptation will be sped up if you follow the greatest and most balanced dashboard design concepts and ensure that everybody in your business can easily identify the most significant data.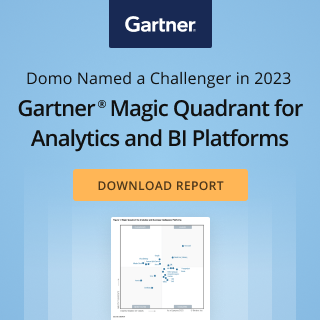 Check out some related resources:
Domo Showcases ESG Solution for Gartner BI Analytics Showdown
Domo Recognized as an Overall Leader in the 2023 Dresner Wisdom of Crowds® Business Intelligence Market Study
Domo for Marketers: Tips and tools to seamlessly manage marketing data
Try Domo for yourself. Completely free.
Domo transforms the way these companies manage business.