/
The top 10 pro sports teams embracing analytics.
Think back to the last time you watched a professional sporting event. Could you see the difference? You probably didn't even notice that your favorite team is juiced on analytics and data. Increasingly, sports franchises are turning to myriads of data points to gain a competitive edge.
To better understand this phenomenon sweeping the wide world of sports, ESPN dispatched hundreds of researchers and journalists with one goal—to assess 122 teams on the strength of their analytics staff. Well the rankings are out, and while some teams are looking like early adopters, others seem more comfortable in the meaty part of the bell curve.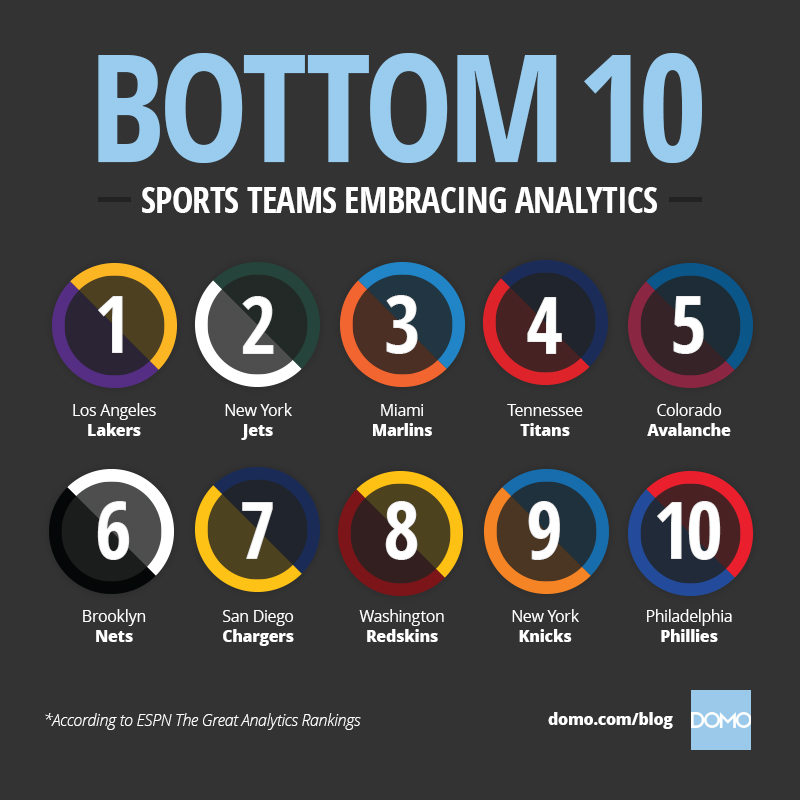 But it's not just professional sports using data for a competitive advantage. Nebraska University recently hired Tucker Zeleny as the Director of Sports Analytics and Data Analysis. According to the University, "Zeleny will head a newly formed department that will be in charge of working with Nebraska's 24 varsity sports to collect, analyze and summarize data related to team and individual performance."

Zeleny's position might be new to Nebraska, but it represents an increasingly popular trend in collegiate athletics. Like so many other industries, athletics is undergoing a tectonic shift thanks to increasingly useable hordes of data.

Now, every dunk, block, pitch, punt, swing, and slapshot is measured and analyzed. And with each bit of new information, your favorite athlete is improving. It turns out your boss isn't the only one obsessed with creating a data-driven team.

In the NBA, general managers like Mark Cuban have been advocating analytics for more than a decade. According to Cuban, "Analytics have been an important component of who we are since I walked in the door 15 years ago."

The Mavericks have seen success with a more data-driven approach, averaging 54 wins per season under Cuban.

But not every franchise has seen this approach pay off. The Philadelphia 76ers, for example, have thrown away two seasons and are struggling through their third with the worst record in the NBA, after hiring a data-driven general manager and implementing a 'non-basketball' approach to the game.

While a data-driven approach doesn't guarantee a victory, it does increase your chances of winning. According to McKinsey, data-driven teams have proven 23 times more likely to win new customers and six times more likely to retain the ones they have. Building a legendary team doesn't happen overnight, it takes smart people, good technology, and a little luck.

)